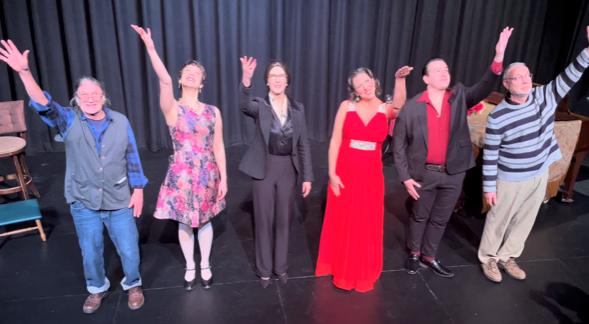 by Kevin T McEneaney
Terrence McNally's 1995 docufiction play Master Class, which won the 1996 Tony Award for Best Play, at the Center for Performing Arts showcases local vocal talent as it portrays the legendary Maria Callas near the end of her life. The famously turbulent diva is depicted as intolerant of less than perfection (with a gleeful, surprising sense of humor) as she struggles as a teacher to impart her operatic wisdom and passionate technique.
Not having seen the original production, I read a short review by a dilettante hack and came away with the impression that the play was but an amusing jeu d'esprit. Which is not what the play is.
The play takes place one semester at Juilliard Music School in Manhattan where Maria Callas was hired to teach a Master Class in operatic singing. Callas brims with self-pitying narcissistic monologues that meander through sage advice and alternating parodic, aristocratic satire. Her career is kaput; she drowns in memories of bitterness and spectacular, transporting triumphs.
We eavesdrop on three tutorials. Sabina Balsamo, Soprano 1, bubbles with naïve charm; her youth and vivacity makes Callas jealous. While she has a good voice, Callas instinctively realizes that she has little acting ability and treats her with scathing, abusive contempt. While a minor role, Young's acting is excellent.
Thomas Netter as the Tenor has an excellent voice and dramatic range; he will undoubtedly ply the stage in minor roles; he reminds Callas of a youthful lover she once had. She is happy for his small future spot in the shadows of operatic world as messenger or servant; she fancies he will provide a few female fans with momentary pleasures. She cannot rise to the challenge of teaching him anything.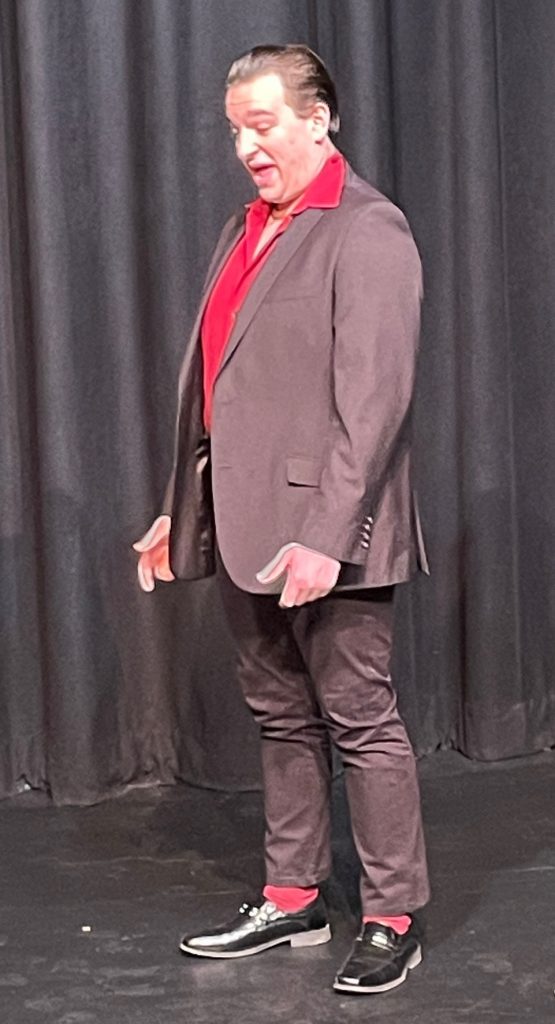 Sara Beth Pearson as Soprano 2 has both the voice and dramatic ability to transform herself. She is new, raw talent who has future potential as a serious star. Callas mocks her and instructs her to focus on dramatic technique; she responds with such perfection that Callas is astonished. Yet Callas wants the student to sing like Callas. (It is worth the price of admission to hear Pearson sing for a few minutes.)
The student rebels, humiliates Callas for not being a teacher, or even knowing what an instructor is. This is the play's surprise reversal with Callas left alone on stage with the memories of her long affair with Aristotle Onassis—his failure to marry her, and her thwarted desire to have a child by him.
This production is a showcase for Pearson whose next production is the title role in Tosca (one of Callas' most famous roles) with New Rochelle Opera.  
Elaine Young as Maria Callas is good with timing and irony in the roiling cascade of bitter jokes. She is at her best in the two long monologues of the first and second act. I was so entranced by her monologue in the first act that I forgot my role as reviewer and did not snap any pictures.
Paul Schubert humbly plays the role of indifferent pianist.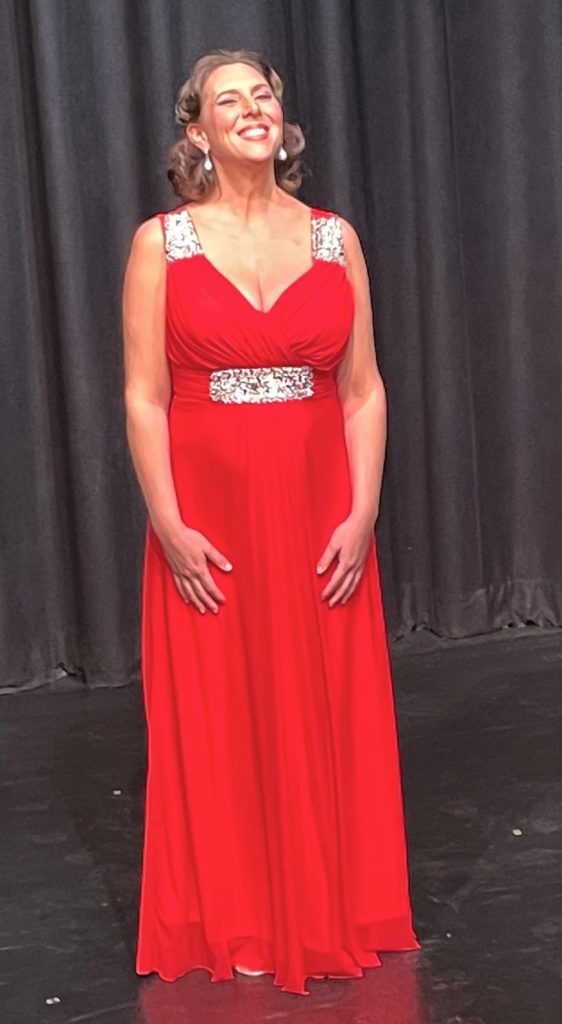 As Director, Lou Trapani, has managed to shepherd quality plays to this regional theater. Master Class provides a witty meta-drama about the art of acting. In the end this play is more about acting than opera.
I left the theater feeling transformed. Turn off your tv; live theater is the Real McCoy.
Time for me to remove my mask as theater reviewer and return to my accustomed obsessions: Homer, Shakespeare, Pushkin, Verdi, Puccini, and the thousands of unpublished poems of the little published local poet, Kevin T. McEneaney.