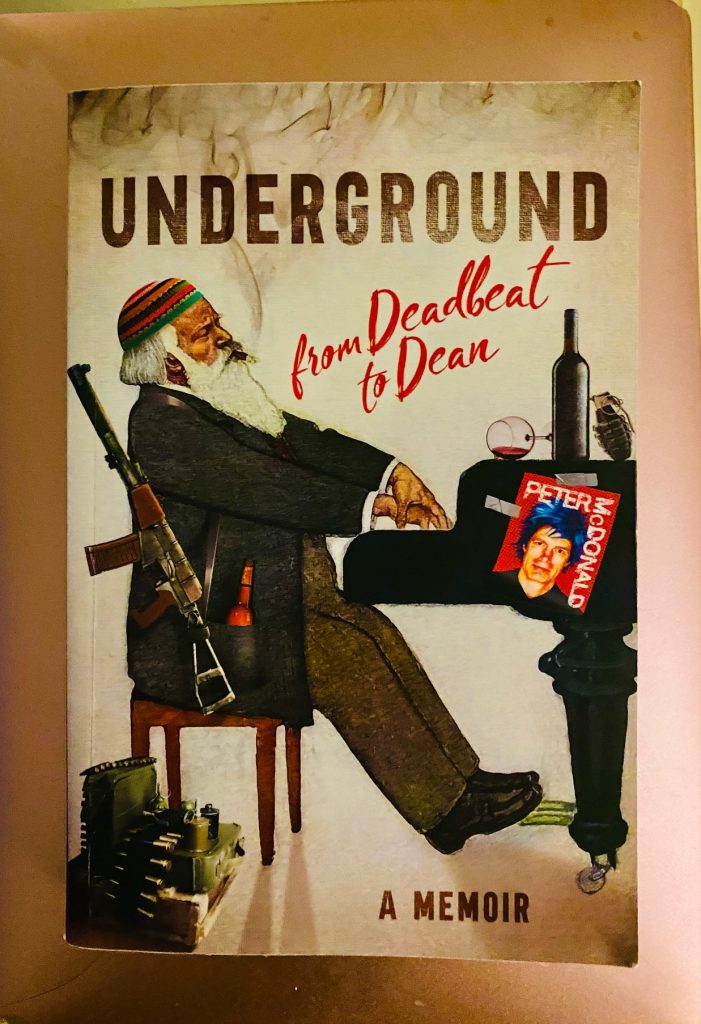 From Deadbeat to Dean: Underground: A Memoir. Peter McDonald. Library Juice Press, Sacramento, CA, 2022.
by Tonia Shoumatoff
Peter McDonald's saga about his peregrinations from punk rock promoter to dean of a major university library system in California is a fascinating journey sprinkled with hysterical and sometimes profoundly moving and semi-honest accounts of his attempts to finally find himself. His long-suffering father pithily labelled his wanderings as "vicissitudes."  
Having grown up in the tropics, London, and Salisbury, Connecticut, with an entomologist father who was hired by Shell to research pest control, McDonald's keen observance and love of birds, animals, and nature permeates his narration.  In one of his many forays into Earth justice, he becomes an eco-warrior helping catalyze a small group into action, succeeding in stopping a devastating mountain top removal proposal which would have blasted and destroyed the hills leading to the Sequoia and Kings Canyon National Parks, destroying the gorgeous and fragile biodiversity leading up to the 400-foot sequoias.
The more amusing parts of his hilarious adventures include a late-night plunge into Eric Clapton's swimming pool outside London while high on LSD, a catastrophic gig with punk rockers swinging from the pipes of a performance venue and causing a major flood in Seattle, and hanging out with Samo, alias Basquiat, in the early days of the punk rock scene in New York city.  Repeatedly going for refuge to Alaska where he lived alone in a wilderness cabin for sixty-one days; finally attending college at McGill University while hoping to be safe after becoming a draft dodger (he never responded to the draft documents which were sent to his parents' home in Mexico).
In one of his first forays as a punk rock concert organizer for a notorious riot band called Black Flag in a below ground venue called the Bahamas Basement in Seattle, he explains that he had not a clue of what to do and spent sleepless nights stapling posters to telephone poles to get people to show up.  After the show sold out and people were lined up around the block to hear the infamous Los Angeles band, the muscular lead singer screamed out his lyrics with a banshee yell and grabbed onto one of the low-slung ceiling pipes to swing out into the packed mosh pit.  Unfortunately, the water main came with him, causing a huge flood that resulted in the screaming crowd fleeing for exits. That story ended up on the front page of the Seattle Times with photos of wet concert goers wrapped in blankets.
The catalog of groups that he promoted included The Police and Devo during their early days when they were starting to become renowned grunge-cult classics.  One of the most hectic shows he had to pull together was for James Brown whose demanding mammoth entourage, bodyguards, and handlers were not amused when McDonald's venue, The Showbox, did not have chairs to accommodate the huge crowd.  "Where's the seats, man?  My lady ain't sitting on no flowr!" He had to scramble to find "200 goddamned folding chairs" at the last minute, which he found from AA and a church.  He declared the crowd "wasn't our regular crowd, hundreds of fancy attired dudes in fine threads and fedoras, and ladies dressed to the hilt in heels jewelry, furs, false eyelashes, and enough perfume to fell a truck driver." And they all stood outside in the Seattle rain and hail waiting for the doors to open. But James Brown was his usual killer-self and the shows were ultimately a huge success. 
But his producing career finally lost its glamour when he had to babysit a drunken Iggy Pop who fell off the stage, gashing his head, and poor Peter had to "hold him over the loo" while he "retched out his brains."  There "began the end of my erstwhile daft career in punk…. I promised myself that night that come what may, I had to find a different way to make a living."
McDonald has a knack for telling stories that are so wild one almost wonders if they are true.  In one instance he sets off into the forest, and finds a rare jasper spearpoint, thousands of years old, glistening in the sun sticking out of the mud on shallow surface of a lake.  When alone in the wilderness, McDonald never seems to be on the wrong end of encounters with some of the fiercest predators including black bears, wolverines, and occasional wolves. Even a snow-covered moose appears sheltering under the soffits of his cabin during a blizzard in Alaska.  His poetic renditions of his experiences verge on the mystical: "There was something majestic to living in the wilderness, to feel nature in the raw, to see how the whole earth-centered ecosystem fits together in harmony."
After a checkered career of fish mongering up and down the Olympic peninsula and in Alaska and being castigated by a red-faced ex-Marine crab cannery supervisor who called him "a deadbeat, no good hippie," he finally takes the long and winding road back to New York city in his fishing boots and lumberjack outfit where he becomes part of the hip and artsy scene of the 1980's there. But finally, after five years of more daft wandering about, he becomes so vexed with his messy life and decides he was ready for something completely different: one of his mentors, his uncle John McDonald, who was  Director of the University of Connecticut Libraries recommended that he apply for library science. 
Armed with a letter of recommendation from his uncle and high GRE scores, he enters the Master of Library Sciences program at the University of Washington.  After graduating in 1987 a whole new career path opened for him, which led him to the Rare Book School at Columbia for a Masters Certificate in Preservation, which let to a job at the Grolier Club and finally an internship at the New York Public Library and funny experiences there as a reference librarian dealing with self-absorbed writers like Norman Mailer and the historical author Barbara Tuchman. Funnily enough, he even had to man the one old rotary phone there.  After starting to work as a librarian in New York city McDonald exchanges his tight black pants and other punk attire for a bow tie and a tweed jacket.  He even starts sipping Manhattans. 
From the NYPL he lands a job funded by the Ford Foundation at Cornell's Mann Library in Ithaca, "land of the hippies," in the international Core Agricultural Literature Project, moving on to become a top library administrator at Syracuse University, and then onto Fresno University library six years later.
He speaks of becoming part of the tribe of librarians—how important this civil service is, how this unique corps of individuals provides for the public: "I can think of no other profession whose practitioners so freely serve the public every day and ask for nothing in return.  It's one of the last bastions of civic service in its purest essence in this mad world, providing a welcoming space open to all."
In all his university library positions over thirty-five years he invited some of the nation's finest poets to read their work including Denise Levertov, W.S. Merwin, Louise Gluck, Donald Hall, Sharon Olds, among many others.  He also founded the national Progressive Librarians Guild (PLG) of which he is still a member.
"So how did a pot-smoking, punk rock-hustling, deadbeat ardent political subversive attain the position of Dean of Library Services at a major university in California?" he asks. "Well, with luck, pluck, and ducking out of bad career choices at just the right time…and being an iconoclast…. I took it as a compliment when a fellow academic dean at Fresno state once said to me at a function: "You have this zany energy about you. You make meetings fun."
Indeed, Peter McDonald's Memoir is a delightfully entertaining read—he is far from your average academic!