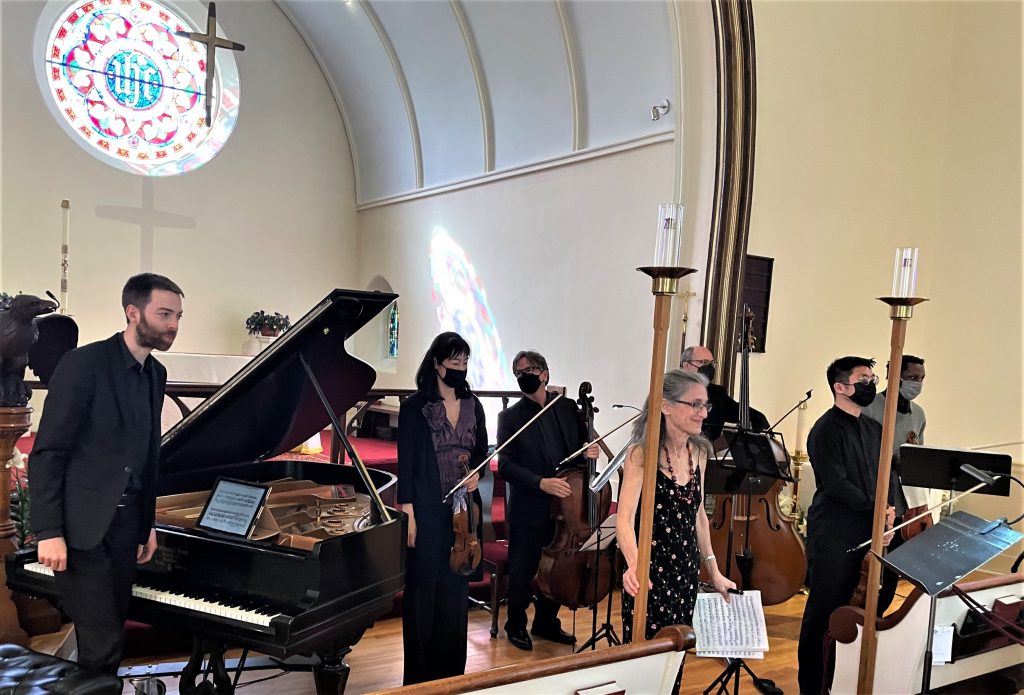 by Kevin T McEneaney
Last Sunday afternoon at St. Andrew's Church in Kent, CT, The Sherman Ensemble performed their annual Best of Baroque concert. They opened with George F. Handel's Trio Sonata in G minor, Op. 2, no. 6. Before Handel emigrated to England, he spent three years touring Italy where he became famous. Handel, Scarlatti, and J.S. Bach, the three most accomplished keyboard players of the Baroque era, were all born on the exact same day: February 23, 1685.
Domenico Scarlatti was thought to be king of the keyboard, but it was evident that he now had serious competition. Cardinal Ottoboni set up a competition. It was generally thought that Scarlatti narrowly won on the harpsichord with his commanding elegance on this higher pitched instrument, yet Handel handily won on the organ. Scarlatti then went to many of Handel's organ performances, astonished at the clarity and power of Handel's brilliance.   
Handel's 1719 Trio featured Evan Shinners on piano. Harpsichordist Kenneth Cooper, who usually accompanied the ensemble on harpsichord had recently passed away (flutist Susan Rotholz often recorded with him). Toward the end of the concert cellist and Director Eliot Bailen asked the audience if they would have preferred a period harpsichordist, yet few raised their hands because the performance by Shinners on piano was so subtle, elegant, and impressive that few could imagine that any harpsichordist might do better. Jane Chung and Doori Na accompanied on violin, both adept in not only the soft, teasing shading that sometimes appears amid robust Baroque lines, but also rose to the occasion of forcefully competing with the elegant piano lines that lead.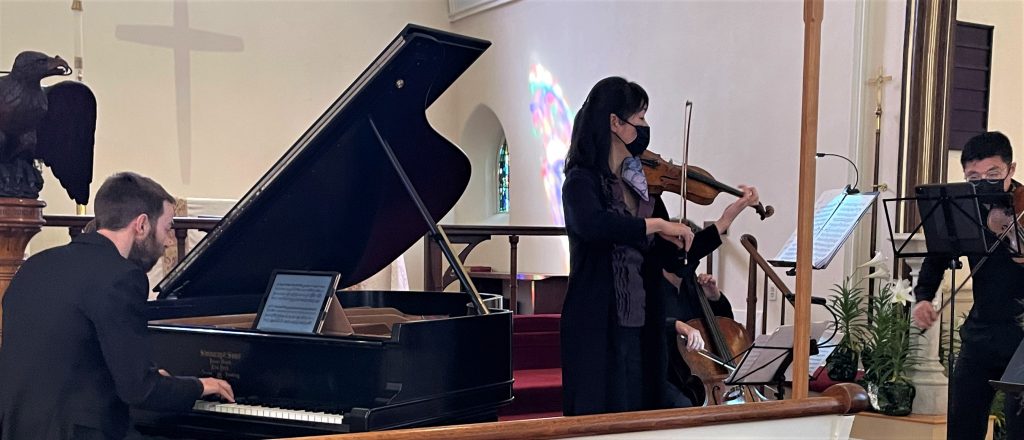 Antonio Vivaldi's Concerto for Piccolo in C Major, Op 44. No. 11 offered a show piece for Susan Rotholz (she had recorded this piece with Kenneth Cooper back in the vinyl era). The rapidity of high piccolo notes reminded me of a sudden, pelting Spring shower. Susan delivered that maestro touch of marvelous astonishment which Baroque art aspired to (as its transcendent ideal) along with solid grounding by her husband Eliot Bailen on cello and Peter Weitzner on double bass.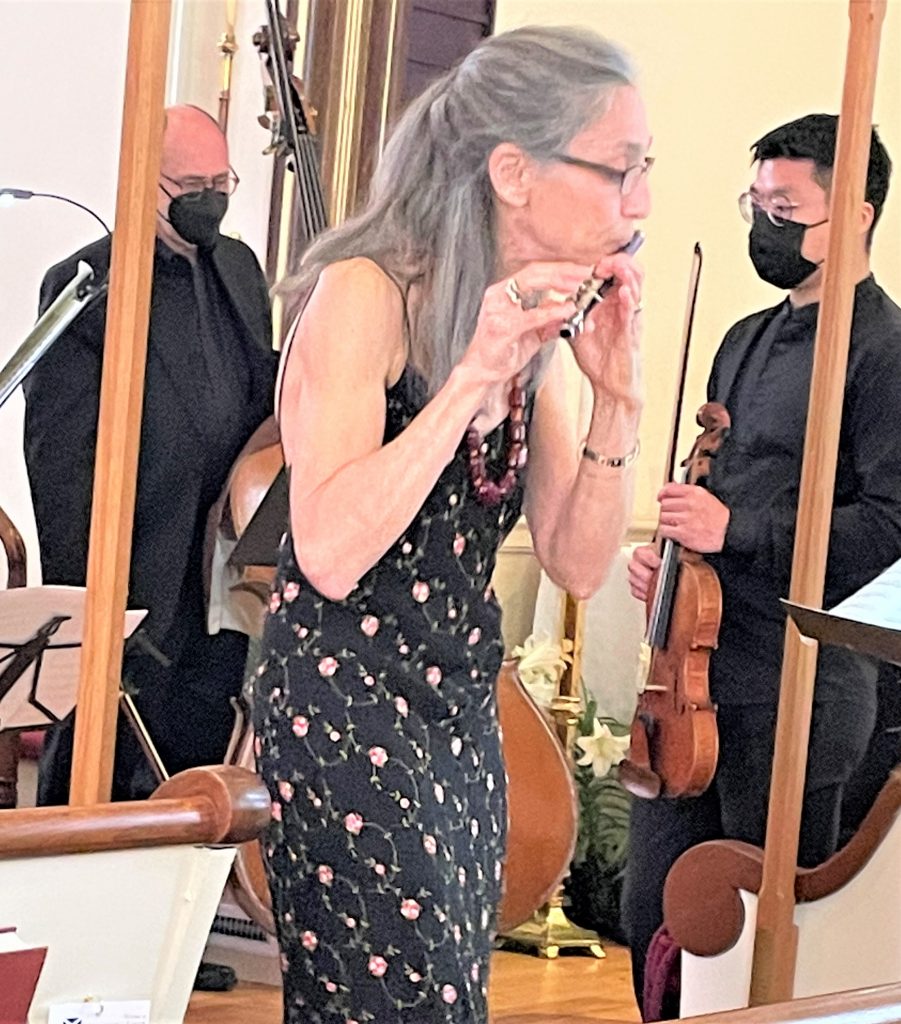 Arcangelo Corelli, another Baroque giant (whose work is not as often played in this country as one might think), supplied the near-orchestral Christmas Concerto Grosso, Op. 6, no. 8, which is probably his most often played work today, due to its holiday subject. This form has two sections of players so that their musical themes interact as in a conversation. Since the church version of a concerto grosso follows Vivaldi's pattern of alternating fast and slow movements (or doing insert combinations), the church style is more robust than the more ceremonial chamber suite style. The concluding pastoral Largo evoked the autochthonous mythology of wisdom being born from the earth, as in the fiction of St. Luke. Here Jameel Martin on viola contributed mightily to the musical dialogue.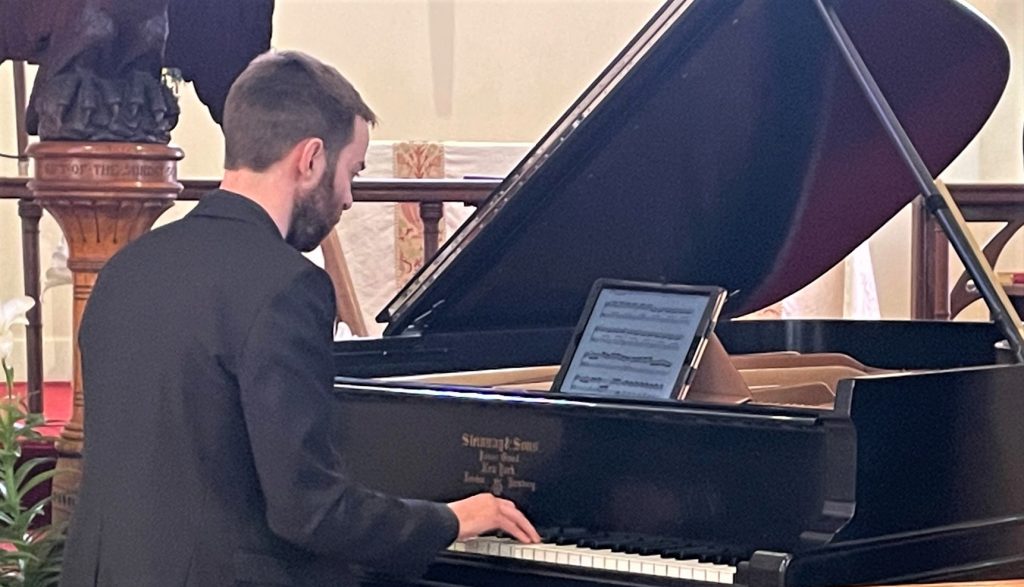 J.S. Bach's glorious Brandenburg Concerto no. 5, BWV 1050 supplied the closer. The fingering and modulations of Evan Shinners had been excellent, but he was now swimming in his specialty. Written in 1721, the whole series of six concertos had remained lost until 1849, and this piano resurrection by Shinners created a precious memory to cling to. Yes, he provided that very high level of astonishment which the exclamation mark signifies!
No recordings, however great, can capture the immediate thrill of live music, as in-person performance may deliver!