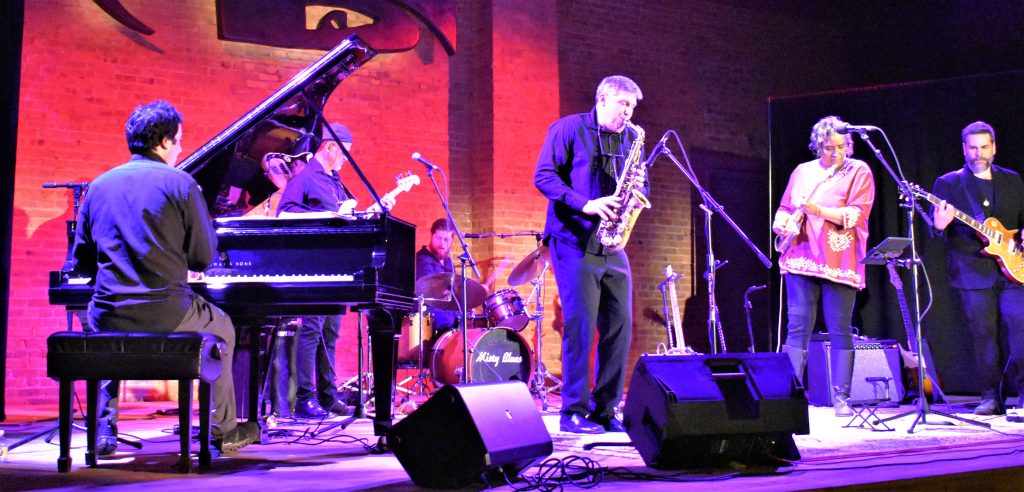 by Kevin T McEneaney
The Misty Blues Band returned to The Stissing Center Saturday night. Last autumn they performed a rollicking program tribute to Queens of the Blues. This six-instrument band with eleven CDs to their credit performed some traditional songs yet predominantly Gina Coleman's own songs with some emphasis on their just published CD, One Louder. One aspect of the band that I admire is their arrangements, whether they perform blues standards, or their own songs written by lyricist Gina Coleman whose voice delivers a spontaneous, lyrical wallop.
Front tenor guitarist Seth Fleischmann was featured in a preponderance of blues solos and wailed with nimble nuance, often providing a semi-acid rock quality on his electric guitar. Underneath everything was the throbbing bass guitar undertow supplied by Bill Patriquin. Out front was Aaron Dean's blasting, nuanced tenor sax, dazzling with subtle segues and high-pitched, climatic explosions. Yet above all at the mike was magnificent front singer Gina Coleman (formerly lead singer for the Cole-Connection). Coleman has an authentic, spicy-edged, dynamite explosion in her voice which has great range from mezzo-soprano to deep-diving bass.
Playing a growling cigar-box guitar, Coleman delivered a gut-bucket version of "No More To Give" from Weed 'Em & Reap, a blues song about being disappointed in love, the title song of their ninth album (now out of print). "How The Blues Feels" from One Louder (written by Gina Coleman and Ed Moran) made me feel I was in the right place for the moment. (Their CD features a more sophisticated arrangement.)
"Swing My Blues" from Weed 'Em & Reap provided some spiritual uplift. "Cry To Me," a cover of a Solomon Burke song offered a dollop of consolation.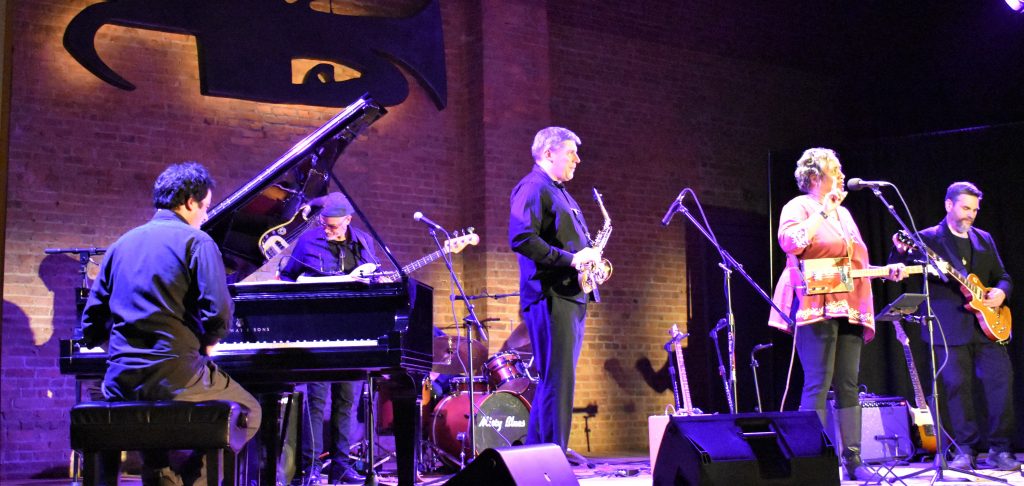 "I can't wait for the sun to go down" from their None More Blues album (2021) was a big country western hit in the early 1950s with obscure origins, most likely African American; here Coleman provided a soulful, melancholy blues version.  
"Before he dies" was a traditional Creole requiem with blues inflection. A version was popularized by Beyoncé in 2006. Here Fleischmann on guitar and Dean on sax delivered spirited, sonorous solos.
Coleman's voice in "Freight Car" from One Louder made me a true believer in the blues. Here Rob Tatten on drums put down some impressive drumming licks and Benny Kohn ( who performs some backup lyrics) on piano pounded out memorable honky-tonk riffs in C minor. Coleman joked about that song being a hit in England. She remains an adept emcee introducing her material with witty quips.
"Leave My Home" features crunch, grit, yet hypnotically lyrical lines written by Coleman with a gut-bucket refrain. You can hear a free version on YouTube. There were 15 numbers in the Stissing set; I left a few out. The repertoire of this band astonishes.
"Lil' Liza Jane," now considered a folk song, was written by Ada de Lachau, born in Brooklyn as Ada Louise Metz (who married into French nobility), who became in 1916 a successful stage song writer with this tune and lyrics when she was living in San Francisco. Some in the audience sang along.
The more mellow closer "Take a Long Ride," the last title on their current album, offered thrilling guitar solos by Patriquin and Fleischmann.
Misty Blues Band is what I would call blues fusion, that is, it draws from many other genres and integrates that material into fresh blues format, something that the blue did before it became a self-identified genre.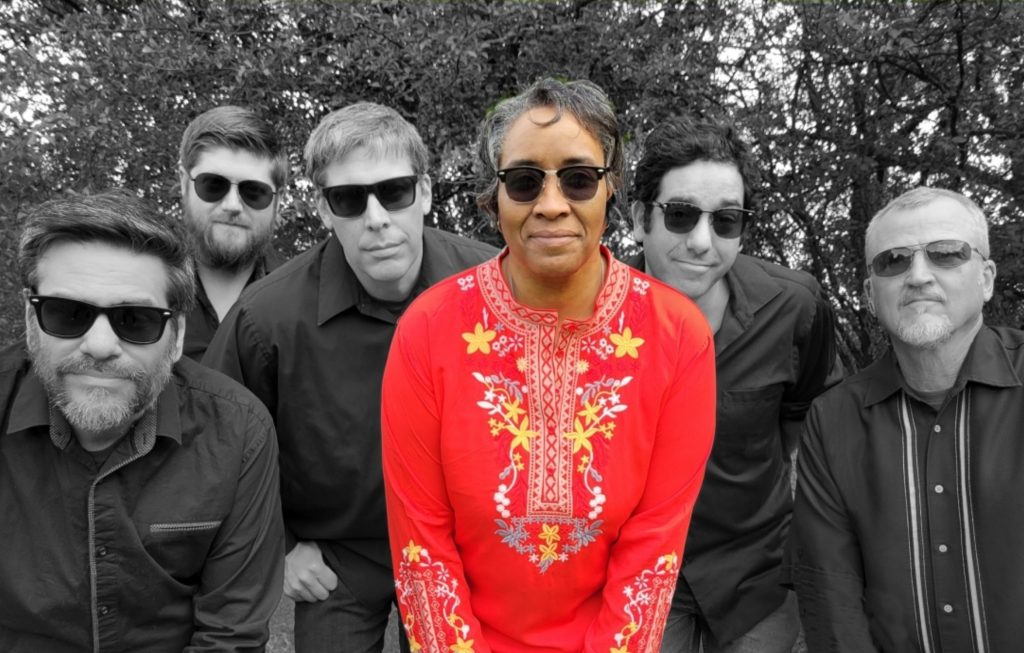 n 2019 Misty Blues rose to compete in the National Blues Fest finals in Washington, D.C. Coleman quipped that this contest event is dominated by southern groups and that some find it difficult to take seriously a blues band from Williamstown, MA. They certainly should take them very seriously!
Coleman's voice is by turns tender, soaring, startling; she is the current Queen of the Blues.
For more information visit YouTube or their website: