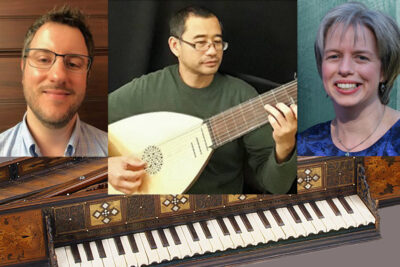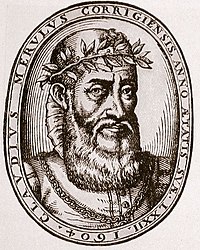 by Kevin T McEneaney
Trinity Church in Lime Rock, CT, hosted a Baroque concert, "The Art of Improvisation" by Crescendo last Friday evening when the weather was so Spring-gorgeous that the outdoors appeared to be like a noted cathedral. Unlike today when classical music is carefully scripted, much baroque music resided in the energy of the improvised present—musicians were presumed to be accomplished improvisors who could spontaneously create new music before the audience who never knew what exactly was being played, which led to the present being more preciously spontaneous. That spirit of spontaneous artistic camaraderie only exists today in jazz and a few, very few, experimental ensembles.
Much of the surviving Italian Baroque manuscripts merely offer basic outlines of how a tune may be treated. They opened with two sonatas for two harpsichords over a figured bass line by Bernardo Pasquini (1637-1710). Hideki Yamaya played a short bass line with the theorbo, and the keyboarders were off to the races. These sonatas were presumably in Vivaldi's formidable recipe of fast/slow/fast, yet such instruction was never specified—so musicians might do whatever exploration they might like.
Turning to lute, Hideki provided a new arrangement of two Canzone by Claudio Merulo (1533-1604). Merulo was an early champion of counterpoint. While we do have many of his chamber music pieces and some of his choral settings, his sixteen operas have been lost (nearly a hundred of Vivaldi's operas have been lost). Merulo's piece was originally composed for two lutes; Hideki provided an arrangement for virginal and lute, which he played. I was happy to hear this piece because Merulo's interesting music is never played in this country, nor is it much recorded. Julian A. Mesa and Christine Gevert exchanged leads several times in their musical conversation about what can be done with various notes. Born Merlotti (the little blackbird), he Latinized his name to Merulo, "Ruler of the Sea" (of music). When one is a famous organist in Venice and a composer of note, that is the way to permit people to remember you!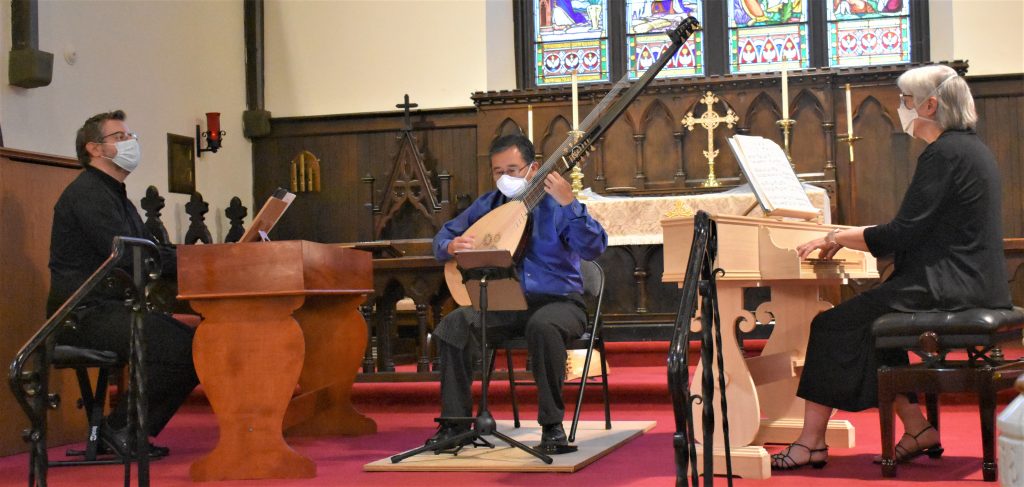 Hideki played two Toccatas by Giovanni Girolamo Kapsberger (1580-1651). This was like nothing I ever heard in Baroque music. Instead of changes on melodies or modification of refrains, this was a capricious meditation on what a lute may offer in free-form plucking. This was nearly like listening to a John Cage piece!
Two Toccatas, arranged by Hideki, by Alessandro Piccinini (1566-1638) for lute and two virginals offered an ethereal experience. The higher pitch of the harpsichord induces mesmerizing tranquility, a satisfactory healing vibe.
Turning to another Venetian, a Canzone by Giovanni Gabrieli (1547-1612), most famous for his Christmas music and echo effects in choral settings, Mesa played some rather vivaciously and sweetly paced notes.
Mesa then improvised on "A Ground Bass" by the Englishman Solomon Eccles (1618-83). Mesa's dexterous, lithe fingers were so captivating that one might say he offered the crescendo of the concert. Christine Gevert joined Mesa for two Paduan tunes by John Dowland (1563-1626) who is thought to have provided much of the incidental music employed in the plays of William Shakespeare. Despite the tune's Italian origin, this piece showcased folkloric, Celtic refrains fantasizing the myth of eternal return.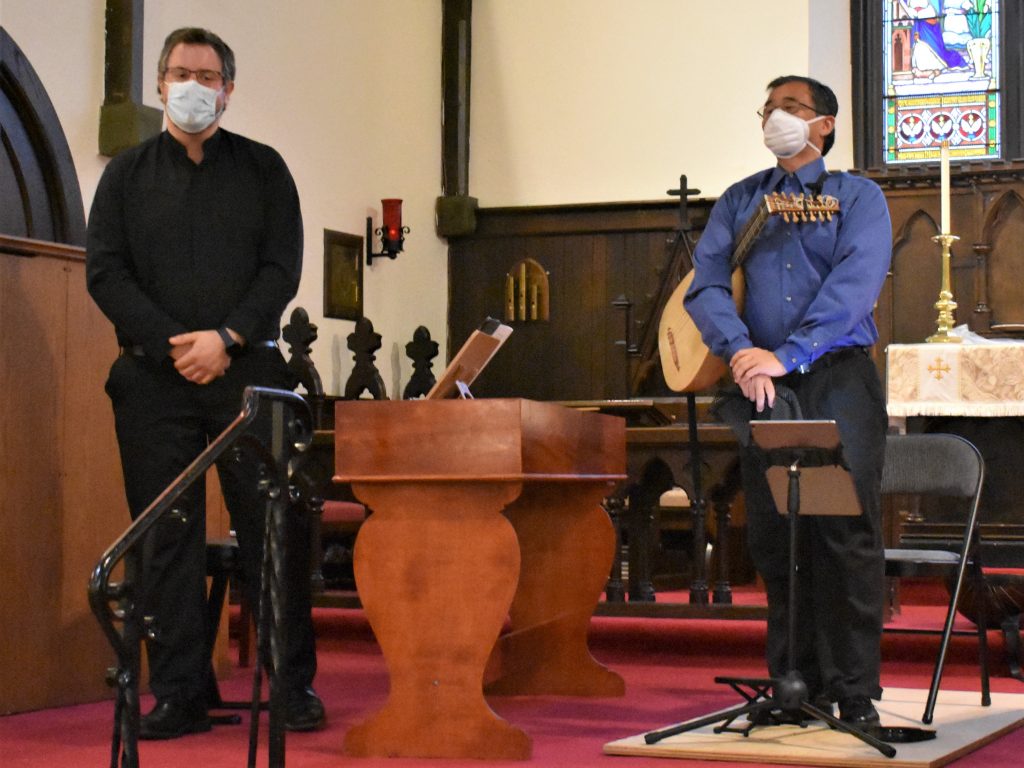 Christine Gevert soloed on virginal with "Appear Apollo's Darling" by Daniel Purcell (1664-1717). Her performance was sprightly and enchanting. In the 1960s a Do-Wop group called The Apollos had a hit with a song entitled "My Darling," so one of the group members must have had some Italian Baroque familiarity. Gevert followed this with a version of a romantic, parting madrigal by Bernardo Pasquini (1560-1608/19).
For the finale all three musicians appeared to play two sonatas by Pasquini. Hideki played his magnificent theorbo. These racing sonatas delivered changing leads between virginals—real musical debate on how all of this was going to end, as it did, with ethereal notes buzzing in memory, along with a sense of being reborn in an earlier period like a snooping sci-fi traveler amid the history of musical experiments.