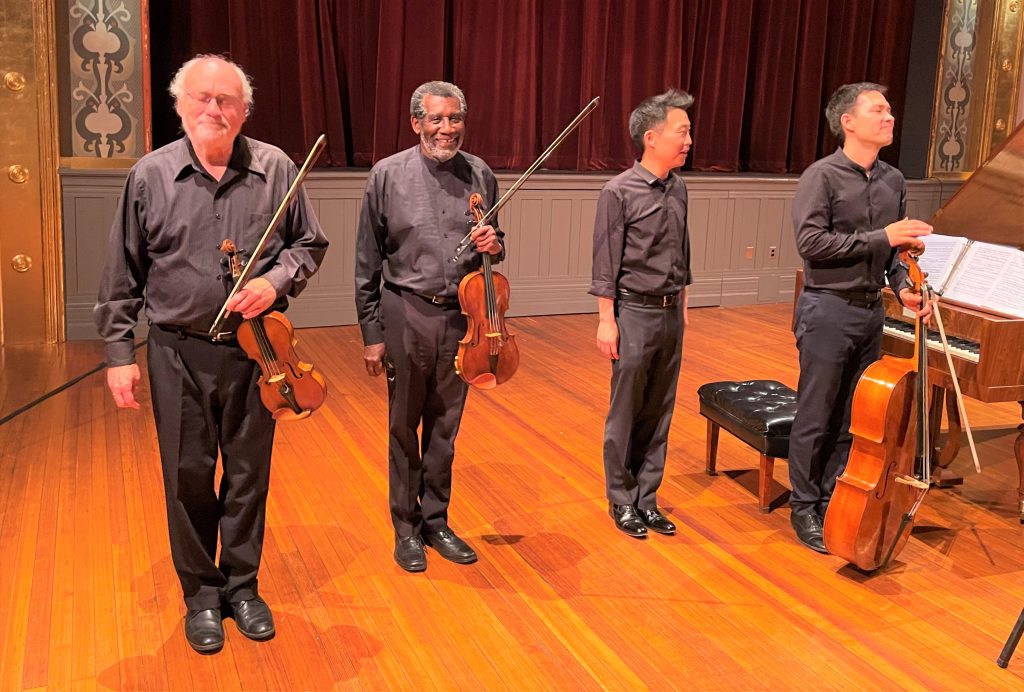 by Kevin T McEneaney
Attendees of the Chamber Music of Robert and Clara Schumann were treated to about four evenings soirées at the Schumann household which had just run out of wine and beer, yet the frolic still hovered in air and conversation ran excited to joyful runs of intoxicating notes, some of which lingered in air and memory as gnomic riddles.
Pianist David Hyun-su Kim played a replica (built 2012) of the 1830 Schumann pianoforte that happily resided in their household drawing room. The steel picnic folding chairs at Hudson Hall were arranged informally around the performers who shunned the Opera stage in favor of mingling with audience.
Despite the fierce and fanatic opposition of Clara Wieck's father (Clara was nine years younger than her beau), the two were united in wedlock and music when Clara turned twenty-one. She had been a sensational public piano performer at the age of eighteen when she became the favorite of the Austrian King. After her third public concert, rumor-mongers whispered that she was quite good, but she couldn't play Franz Liszt (whom she adored) or Sigismund Thalberg. For her fourth concert she played Liszt and Thalberg, receiving more ovations (14) than Thalberg ever received.
While Clara composed between breast feeding, raising eight children, cooking, sewing, teaching, and doing housekeeping, Robert hung out at a local bar in Leipzig, drinking beer when he was in good health after composing dense and difficult music in the morning. Robert was bipolar, suffered from an unknown brain disease that shrunk his gray matter, dying at 46 in a lunatic asylum (after two-year residence), yet he wrote well over 300 important works of music in virtually all genres.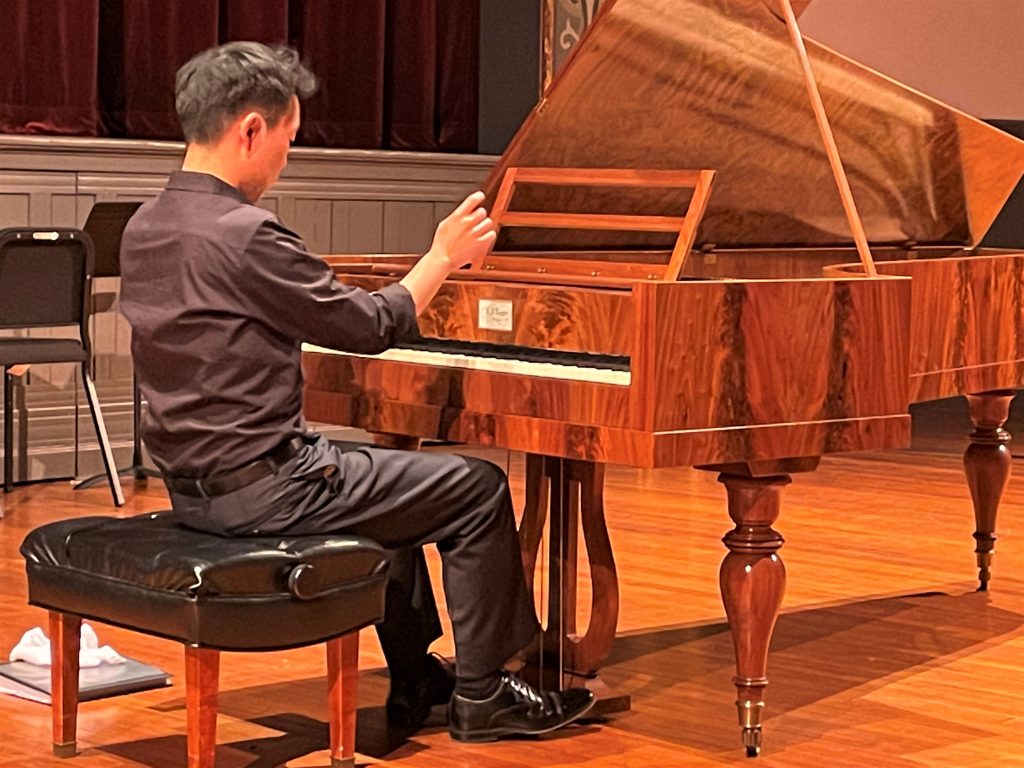 Papillons (French for "butterflies"), Op. 2, offered an early suite of piano pieces written in 1831 by Robert Schumann when he was 21 years old. The work is meant to represent a masked ball and was inspired by Flegeljahre (The Awkward Age), a novel by Jean Paul. In his introduction David offered vivid descriptions of the cast of characters that one can imagine carrying-on at a masked ball, many of these impish personages being satirized for their absurdity. David, currently working on a solo Schumann album (after his solo Mozart and Beethoven sonatas, both of which have received rave reviews), let loose his playful fingers to deliver contagiously delightful pranks in mind and sound in this charming comedy of witty nonsense from a Vienna that can only be imagined by sound. This lit up the party and no one cared if there was no more booze, since they were in the presence of a master performer who drew cartoon notes in air with such rapidity that one could only wonder what was next.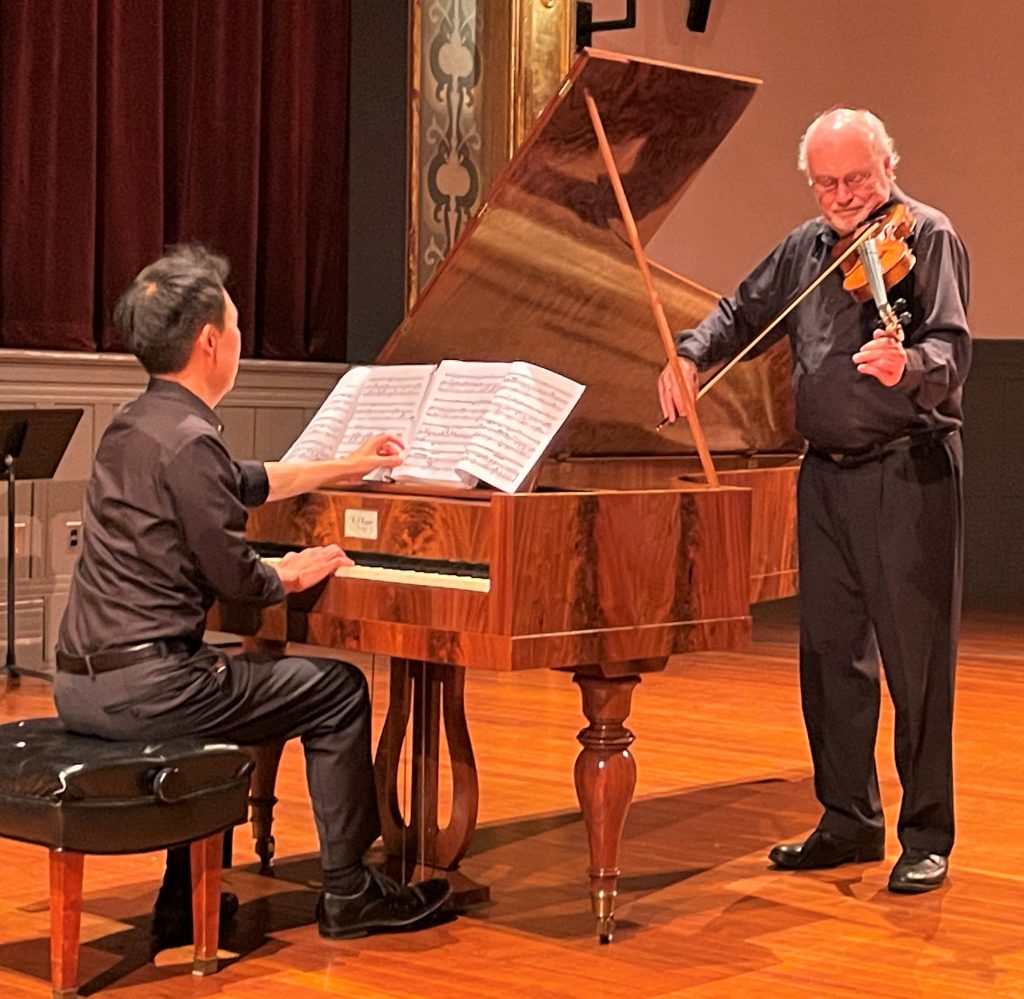 Artistic Director Daniel Stepner's violin accompanied Dave's piano with Two Romances (1853), from Op. 22 by Clara Schumann, which offered an impromptu-like collage of fragments that satisfactorily teased with inflection while, the faster second Allegretto sounded as if depicted children romping with playful amusement, yet not misbehaving, and concluding with the sound of a baby double-burping.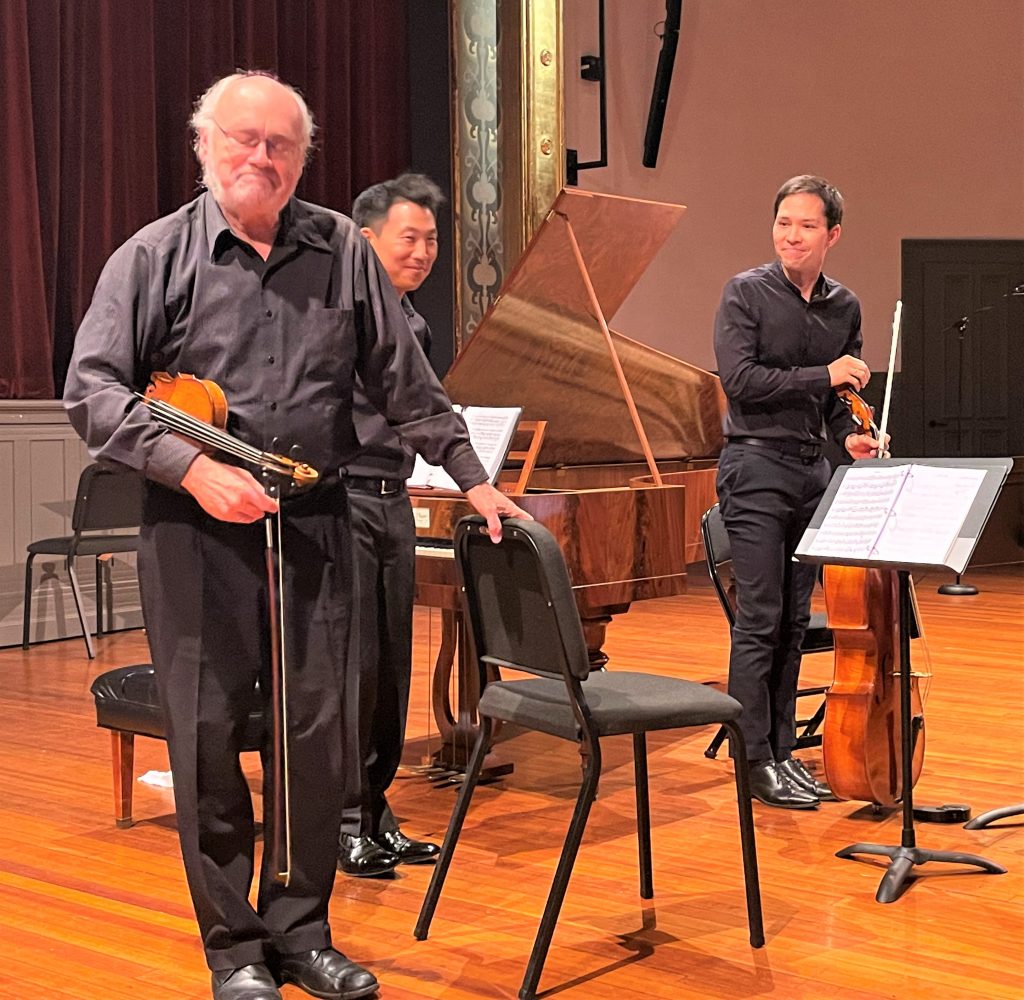 Cellist Jacques Lee Wood, who did not employ a stand (gripping his instrument with his knees) joined David and Dan for Clara Schumann's Trio in G minor, Op. 17. A serious work in four movements, it opened with a polished sonata with a streak of tender pathos, perhaps representing her children; the second and third movements appear to be portraits—the scherzo may depict her father and the tender andante her mother; the concluding Allegretto in rapid counterpoint appears to laud her husband Robert as a musical genius.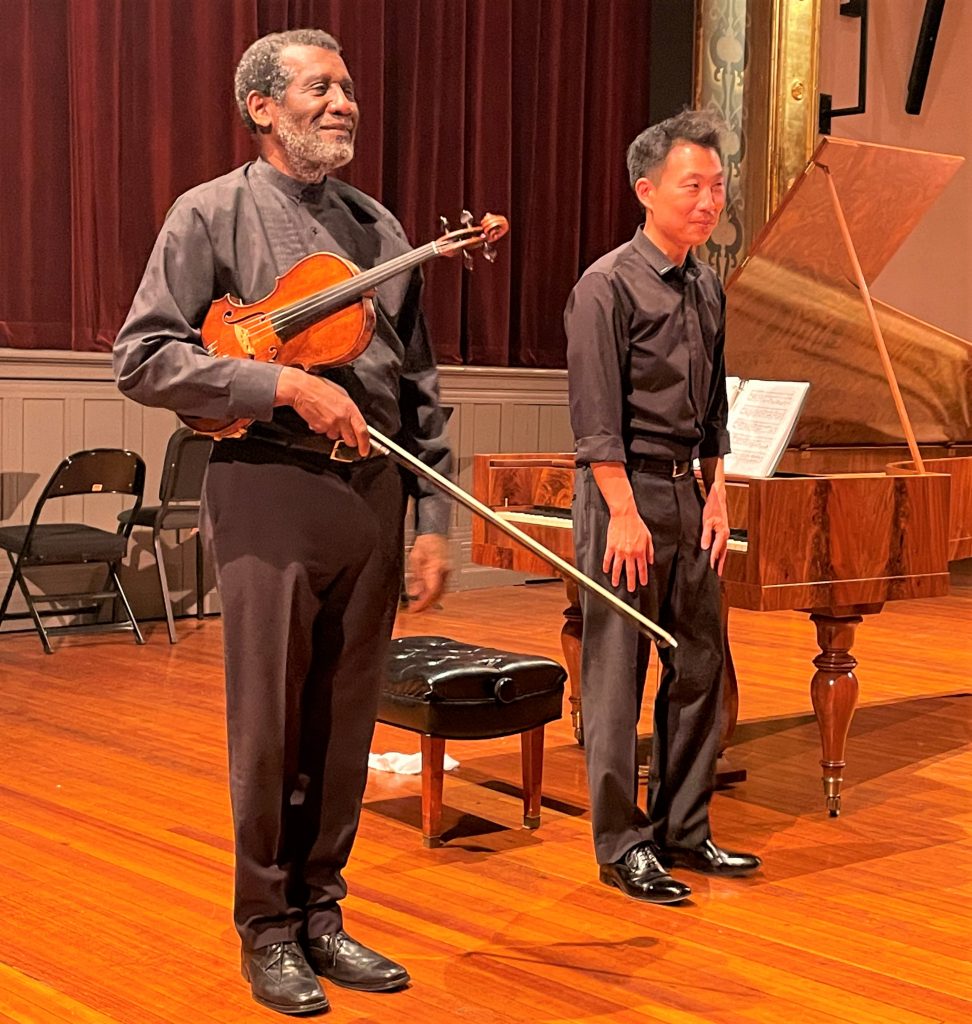 After brief intermission David was accompanied by violist Marcus Thompson who holds the first doctorate given in viola performance from The Juilliard School; he plays in the New England Conservatory. They performed Robert Schumann's Märchenbilder, Op. 113 (1851) which came about when Robert met a gifted viola player, Joseph Von Wasielewski. These four charming, extroverted pieces dramatize four fairy tales. (Nearly all the fairy tales collected by the Grimm brothers are allegories about the Napoleonic occupation of Germany.) Probably written for his children, these four fantasy sketches jump rope in various moods (Not Fast, Lively, Quick, With melancholy) leaving academics puzzled and audiences delighted with sudden grin.
All four master musicians assembled for the closer, Robert Schumann's Quartet in E flat, op. 47 (1842), the year Schumann became so short-sighted that he could no longer read music without glasses. This energetic quartet was chosen for the program because Robert wrote it as a concert showpiece with Clara in mind. To arrive at the composition's transcendent effect, all four musicians must play with bold, romantic, unleashed, intense unity without restraint, which is what happened Friday night hours before the heavens replied in echo with its own thunder-concert.