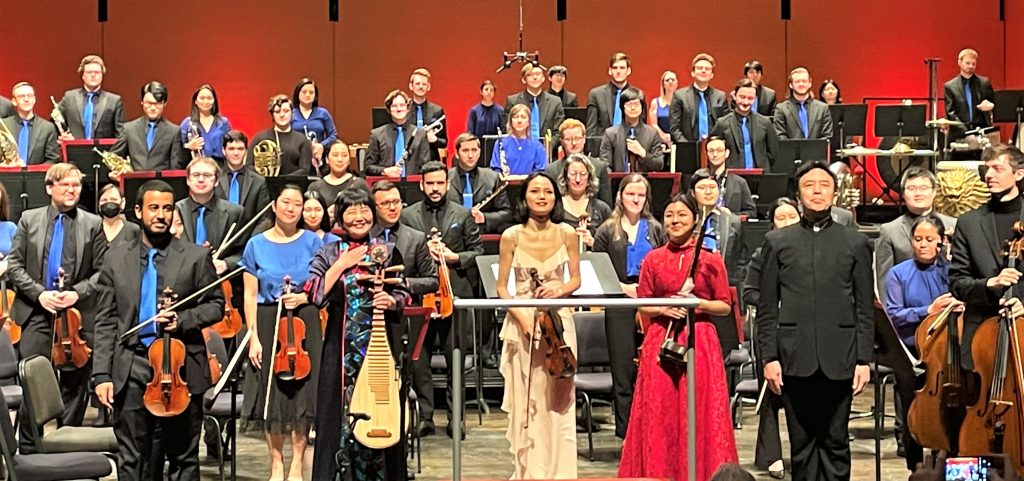 by Kevin T McEneaney
At Sosnoff Theater Conductor Jingdon Cai treated the audience to the fourth Chinese New Year Concert with amazing energy and enthusiasm. This concert surpassed the achievement of the past three years with The Orchestra Now performing with great unity and powerful sound. Emotion reigns at the core of Chinese music which remains closer to painting than the West's more abstract inclinations—similar to the way that Chinese poetry is connected to painting through the elegance of calligraphy. Chinese music usually tells a story: of landscape, lovers, or history rather that recounts what happens in life, rather than focusing on individual expertise or exploration. There is a greater balance between orchestration and individual artistry.
Spring Festival Overture, a concert staple calendar fulcrum, opened the concert and casting its spell on the audience. This was the composition broadcast in space during China's first lunar probe in 2007. While I have heard this piece before, this was the first time that I felt taken to the moon! Composed by Li Huanzhi in 1955-56, it communicates an aura that is contagiously cheerful and puts one in an optimistic mood for the coming year; it was a terrific appetizer that has become an international favorite.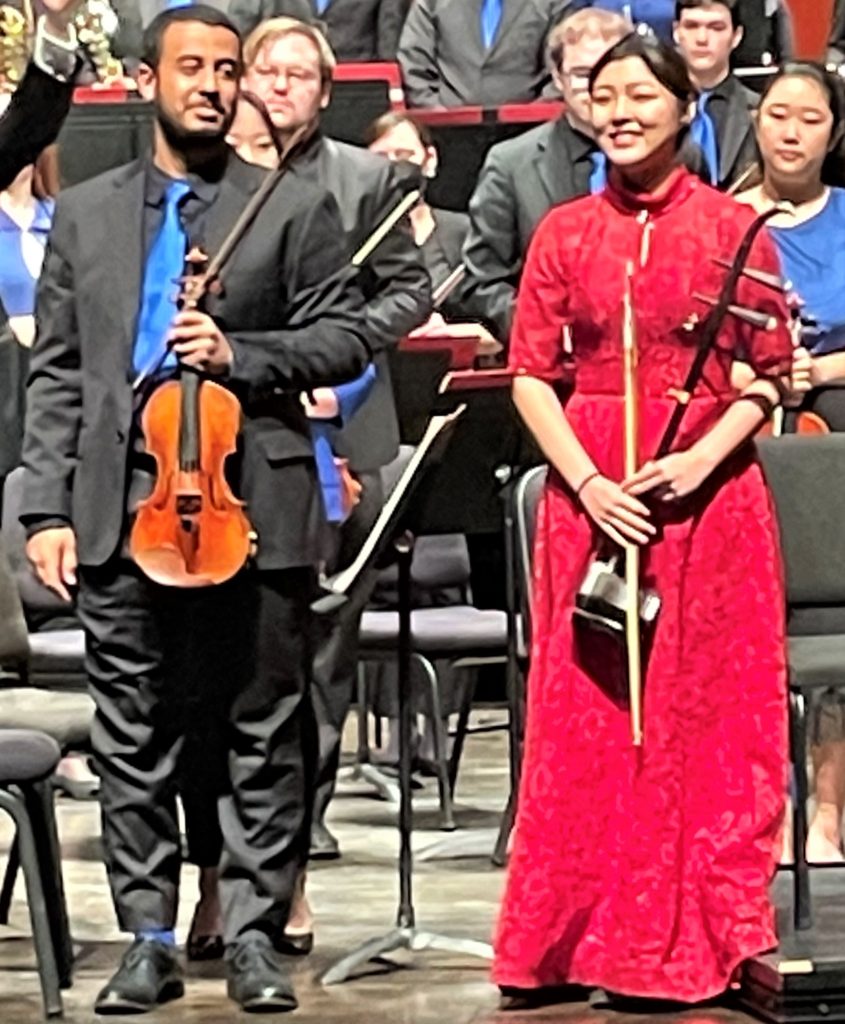 The Indomitable Spirits of the Snow Mountain (1934-35) by Liu Wenjin's depicts the famous Long March of the Red Army in its quest to elude Western efforts to subdue an independent China. Dramatic, full of folk tunes, and description of rugged scenery in four movements, the finale of a symbolic sunrise offers an emotional panorama that freights an emotional jolt that takes one's breath away, especially Beitong Liu on single string ehru which dialogued as well as blended with the orchestra for a unique sound.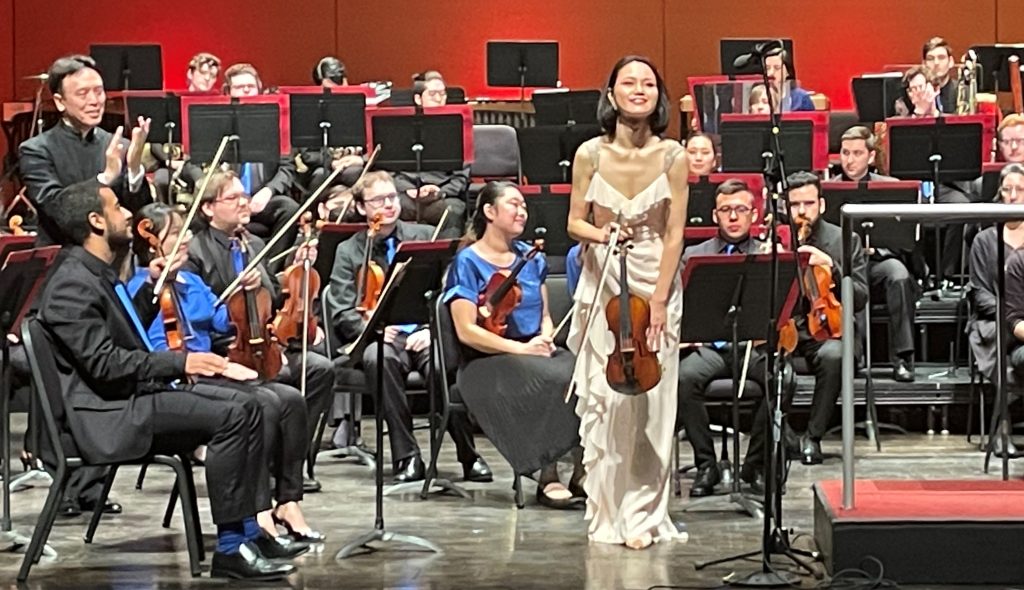 A Western instrument is showcased in Butterfly Lovers Violin Concerto (1959) by Chen Gang and He Zhanhao. Also adapted as a ballet and film, it tells the tragic story of two lovers separated during their lives and their transformation into folkloric butterflies. (Many languages have more colorful tags for these creatures—like mariposa (marriage proposals) in Spanish and A Moveable Feast in Irish.) The composition presents the story in varied segments, yet the Western pentatonic scale combines with traditional Chinese folk melodies, which makes this much like a violin concerto. Na Sun, an international virtuoso, played the violin with eloquence and intensity as the orchestra unfolded the tale while she offered foregrounded commentary. This hybrid composition combined the concept of a an artistic soloist with emotional folk music as parallel dramatization, both for the city intellectual and for the rural farmer, Easterner and Westerner.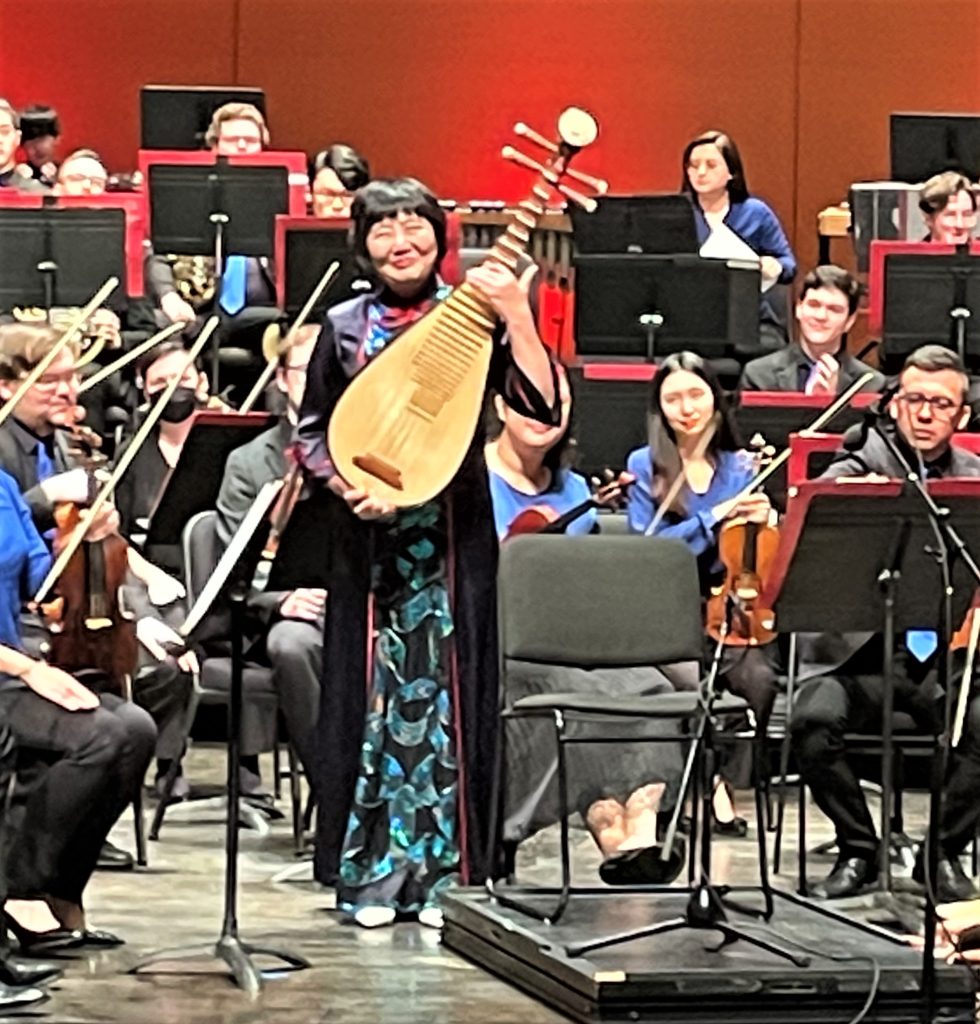 I confess that I am not a great fan of percussion, yet Bard graduate Petra Elek has won many awards; much more than a rhythm player, she is a story-teller with drums. Her arresting solo in this work, Prancing Dragons and Jumping Tigers by Li Minxiong, had me admiring the blur of her hand-movement as well as her varied timbre on several drums. The thrilling dialogue between drums appeared to dramatize arguments between different towns or social ladders.
No concert of Chinese music can be complete the pipa, a pear-like upright mandolin with fret. Gao Hong, an international sensation, both as performer and composer, put the o in wow in Riding on the Wind (1997) by Guo Wenjing. This is a mesmerizing avant-garde symphonic overture with varied segmented pauses. One experiences the suspense of whatever will come next, the future is unexpected, not preconceived. Such an arresting masterpiece with its unexpected waves of sound cresting in air delivers a satisfactory fireworks conclusion.
Bard's educational venture in both Bejing and Tivoli has produced delicious fruit for music lovers!