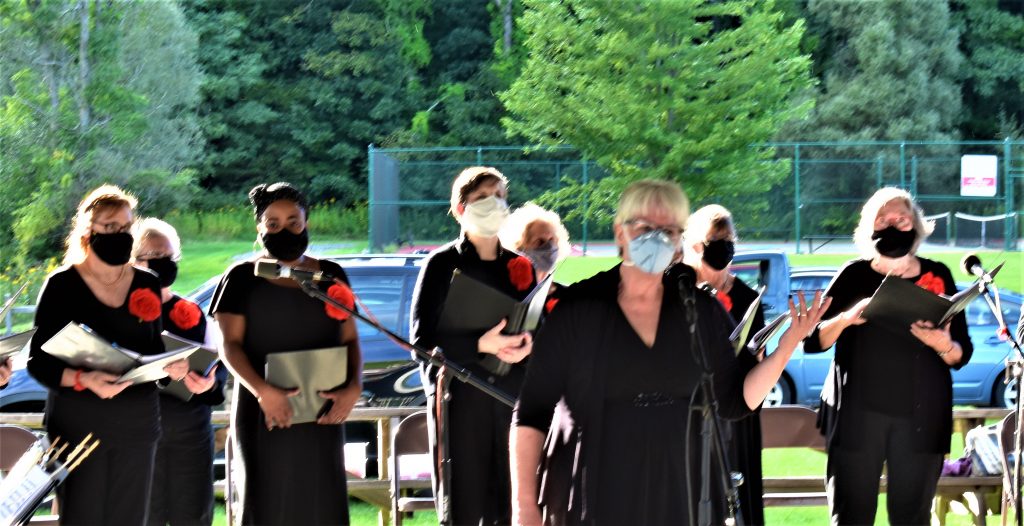 by Kevin T McEneaney
On the afternoon of September 3 at Lion's Pavilion, Veterans Field, Sharon, CT, with mild, nearly autumnal, sunshine, Director Christine Gevert's choral group Crescendo offered "How Lovely are the Messengers: From Tallis to Mendelssohn with Bach, Handel, Mozart and more…." The ensembled phalanx of masked singers assembled to sing as one voice. The concert was dedicated to two acclaimed Crescendo singers, Lynn Baer and Jaqueline H. Kuhn, who passed away last summer.
They opened with two short pieces by Thomas Tallis, "If ye love me" and "O Lord, in thee is all my trust." While the opening implied a secular/religious dialectic, the program was strictly religious. Johann Sebastian Bach's famous "Jesu, Joy of Man's Desiring" was sung in German. (The English translation never quite captures the simplicity and emotional profundity of the German.) Sung with deep affection, as it was here, this remains one of the jewels of choral singing.
Felix Mendelssohn's "For He shall give His angels charge" presents merely four lines, but their arrangement freights such sincere emotional impact that this small diamond is stunning! (In English translation the phrasing borders on being bland.)
"Panis Angelicus" by César Frank (here arranged by Andrew Crookhall), still stands as an all-time favorite, and one of the very few Roman Catholic hymns considered to be a nineteenth century masterpiece, was rendered with the celestial harmony and peace that it can conjure.
Charles Villiers Stanford's Anglican "Oh! For a closer walk with God" from a text by William Cowper (who remains one of the great eighteenth century English poets not much read by Americans and whose translation of Homer's Odyssey in blank verse is still one of the best renderings) and Scot melody is still sung today in Anglican and Presbyterian churches and its vitality has not dimmed over the years as many church goers know by heart this lovely and slightly sentimental hymn. This was aptly sung with unified tenderness in its plea for a reformed life.
This somewhat lengthy concert in two parts with intermission consisted of many short works—I do not wish to turn this review into a program list, so I will briefly mention a few highlights.

In the welcome move to Spiritual, Baritone Jermaine Woodward, Jr. impressively excelled in "Deep River" where his eloquent somber tones elicited deep energizing emotion. If you notice his name on any venue, you will not be disappointed to hear him sing.
Soprano Schauntice Shepherd and Baritone Jermaine Woodward, Jr. performed together as a remarkable duo in "Swing low, sweet Chariot" with echoing choral backing.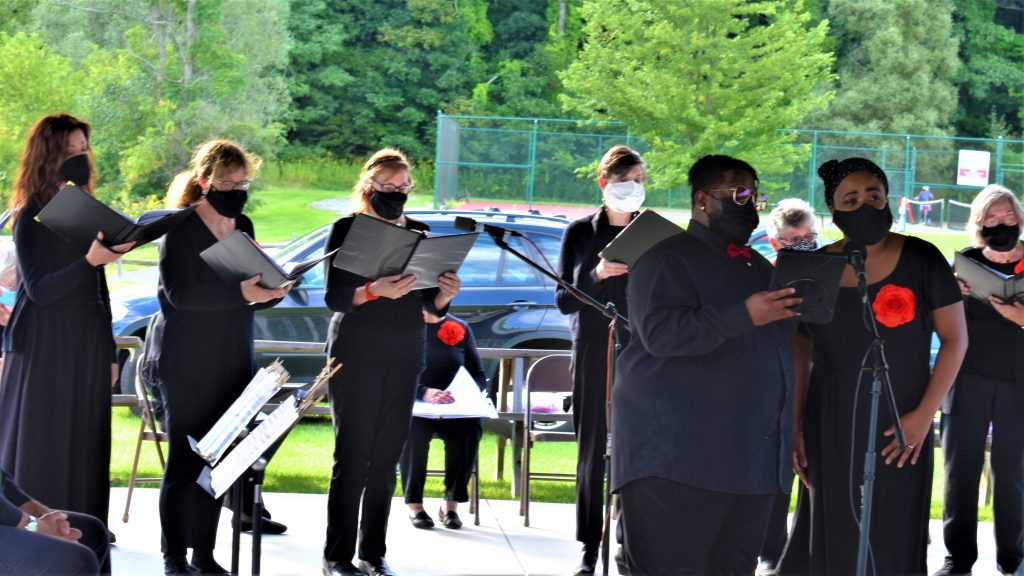 Soprano soloist Jennifer Tyo was excellent in the brief "Laudamus te."
The choir out-performed themselves in "Glory to God" by Handel which dramatized the near miraculous victory of Joshua conquering Jericho and liberating many Hebrew slaves from the Canaanites.
The first half concluded with ever-popular "Halleluja" from Handel's Messiah which echoes down the decades since it was first performed in Dublin.
Mendelssohn's "How Lovely Are the Messengers" (1836) with its message of universal peace (which still asserts a distant hope after St. Paul penned its optimistic text two millennia ago before his arbitrary martyrdom) opened the second half with Mendelssohn's extraordinary gift for choral arrangement.
Soprano Jordan Rose Lee delivered a notable performance with choir backing in "Laudate Dominum."
Wolfgang Amadeus Mozart's "Hail, true Body" on the trials of death perhaps adumbrated more than Mozart ever imagined as died crucified in agony in his bed then dumped into a pauper's grave for offending the Austrian Queen in his sometimes-satiric Magic Flute. This plangent piece thus adumbrated the death of a great apostle of Music.
J.S. Bach's "Sanctus" with its Trinitarian motif of triple subdivision featuring a slow beginning followed by furious fugue was another of the great jewels of choral singing that was executed magnificently. Handel's "Amen" from his Messiah concluded the concert as the sun began to set on Veterans Field as the radiant line "I know my redeemer liveth" resonated in the valley with plangent appeal.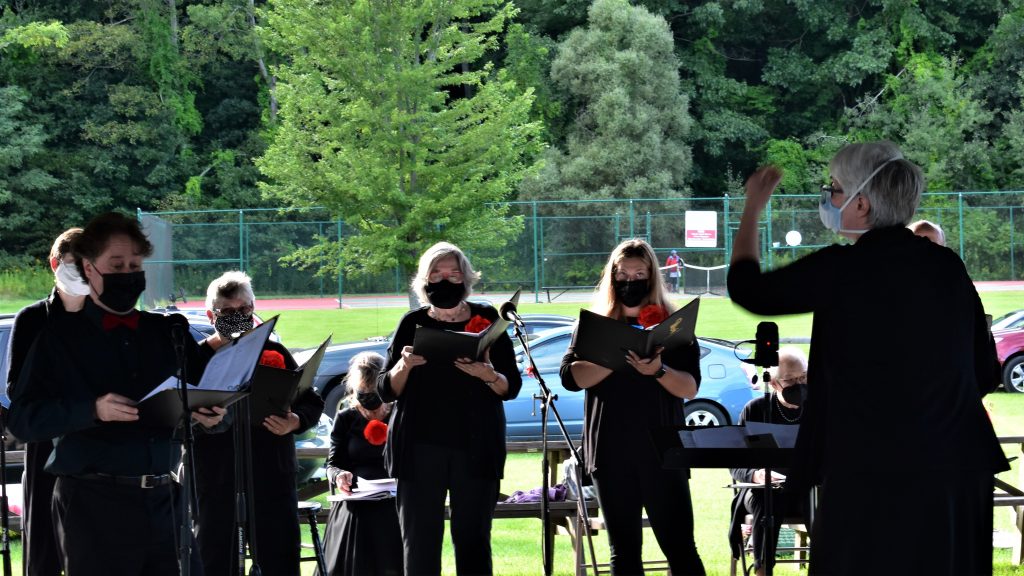 This was most ambitious and successful concert held in the cradle of Nature with trees and lawns surrounding these many dedicated singers.
One aspect of this public concert acclaims the vitality of community in the face of pandemic. Yes, singers were masked, yet their articulation and diction did not sound impaired. The message of this concert is that we as a community will survive, and as a community we will continue to be a community addressing our problems despite difficulties.
Yes, the message was lovely!