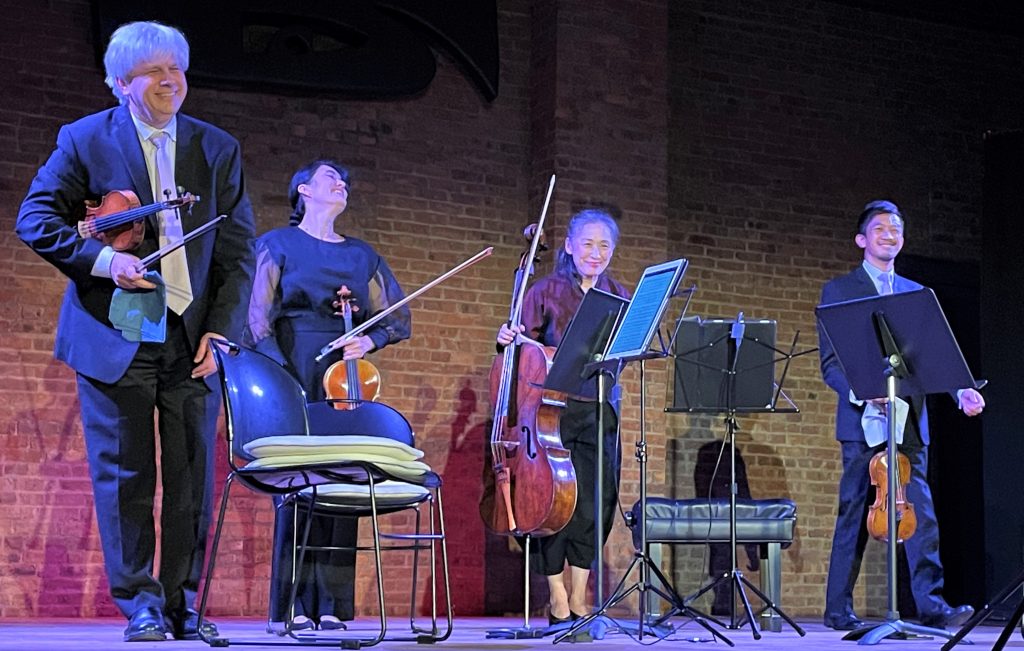 by Kevin T McEneaney
The noted Borromeo String Quartet (of 25 years vintage) delivered delight to a packed audience at The Stissing Center late Sunday afternoon. The opening announcement that this was most likely the final public performance of flutist Eugenia Zukerman due to Alzheimer's disease cast a melancholy note on the opening ice breaker: the first movement of Theme and Variations (1916) by Amy Beach with Eugenia on flute. While Eugenia's accustomed silvery sound held forth in the foreground with the tune of An Indian Lullaby, there was a poignant brevity to the notes of her swan song as they filled the air. Her vivacity of playing and her electrifying stage presence will be greatly missed.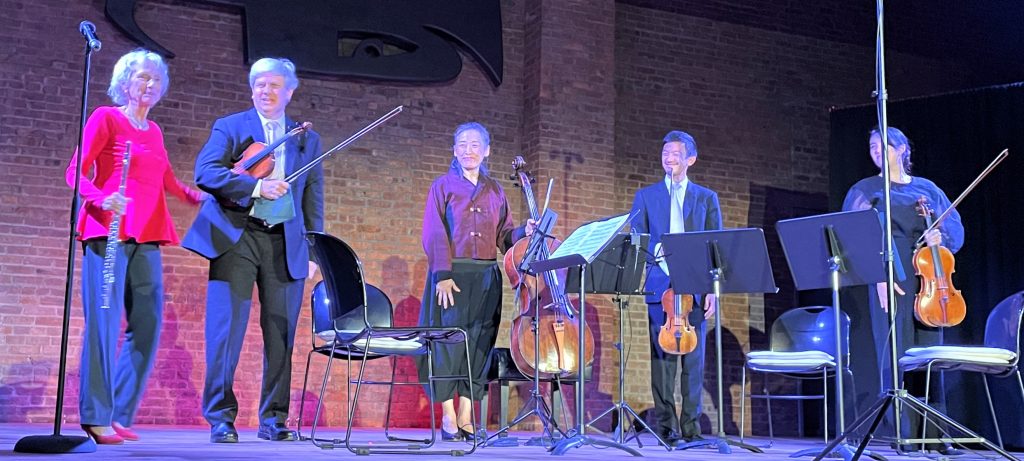 String Quartet Number Two by Jamacia-born Eleanor Alberga was a short yet upbeat quartet that exuded the joy of dance and colorful warmth of scenery that featured some snazzy pizzicato which was a refreshing tonic as a transition to the two large quartets which were to dominate the afternoon.
For Franz Joseph Haydn's second trip to London in 1794, he packed some new quartets written the previous year. These quartets offered a stunning synthesis of both the Romantic and Classical style, creating a new path for Beethoven, Schubert, and others to follow. Haydn was no longer playing for a provincial court: he was playing on the world stage as the foremost, gifted composer of the era. String Quartet in C, Op. 74, No. 1 begins with a heads-up attention-getter, yet proceeds in the Andantino with a single, lithe chromatic melody which is pressured, bent, followed by sudden harmonic surprises, emerging with ever greater power against intense, headlong rhythmic dynamics in this new musical vision that appears to question the form of a quartet. The following Allegro appears at first conventional, but is interrupted by pungent queries, abbreviated asides, a questioning of the court formality, then resolving into the intimacy of personal statement. The continually rising chromatic theme creates dramatic tension.
The propulsive Finale is dizzy with energy as sonata-like formulations are caustically discarded as cliché; counterpoint emerges yet that, too, is not sufficient for the task at hand; the ever-droning cello of Yeesun Kim nears explosion while the violin of Nicholas Kitchen turns to fanatic gypsy mode, exploding in ecstatic frenzy. Haydn has just provided the funeral of the past thirty years of music and kicked open the door to a more robust Romanticism that can exploit the Classical past yet offer fireworks in the present. The excitement of not knowing exactly what you are hearing is like standing on the edge of cliff on a windy day! The echo of Haydn in London traveled the Continent like a lightning bolt!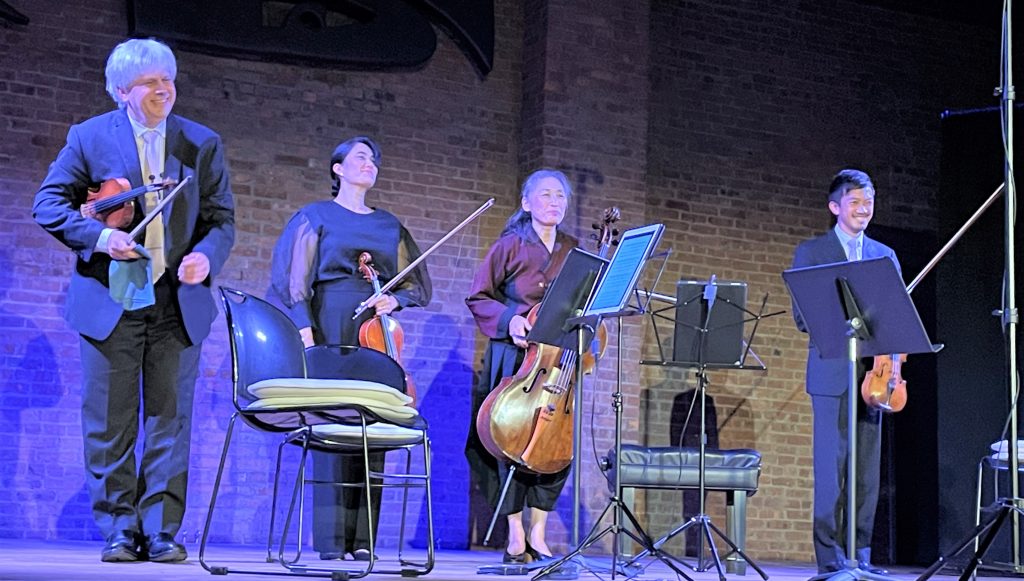 Claude Debussy's String Quartet in G Minor, Op. 10 (1893) is his only string quartet and his only composition to bear a number. The work incorporates church music, gypsy music, the styles of Massenet and Franck, as well as Javanese gamelan music, which I found a bit confusing amid its bold harmonies. This dense and rich quartet is so idiosyncratically eclectic that it demands more than one hearing. The animated and decisive theme of first movement in 4/4 time in antique Phyrigian mode hauntingly returns throughout the work as a Celtic myth of folkloric eternal return. More than most quartets, this work demands the constant interplay of all four instruments, so that violist Melissa Reardon and violinist Kristopher Tong had more vital inter-textual roles.
The second movement Scherzo in 6/8 time employs much pizzicato at which Reardon and Tong excelled. The third movement contains a muted lullaby where Reardon's viola dominated. Returning to 4/4 time, the fourth movement moves into hectic 2/2 time for the rousing, wild, propulsive Finale with Kim and Kitchen in ecstatic frenzy. The whole piece seems the travel the globe with sudden tops here and there determined by the polyphonic whim of the composer; it resembles a complicated jig-saw puzzle put together at fast-forward speed.
This was an intense and dazzling concert sponsored by Eugenia Zuckerman's Clarion Concert series. The Stissing Center is now attracting top tier performers.