by Kevin T McEneaney
Two years ago, Conductor Leon Botstein with the American Symphony Orchestra had set a March date for a Duke Ellington Tribute concert for his Vanguard series, yet it was cancelled on the afternoon of the date due to Covid-19. Last Thursday night that concert on the legendary giant and gifted idler who treasured deadlines, and who left about 2,000 musical manuscripts was performed. The concept of the program was to link and recall Ellington's historical relationship to Carnegie Hall.
For opener, Black, Brown, and Beige Suite (written in six weeks) was chosen because this piece was premiered at Carnegie Hall on January 23, 1943. The moving second movement depicts rebel Haitian dancers celebrating under Toussaint L'Ouverture. While the strings were excellent, I thought the brass lacked the suave elegance that can be heard on Ellington recordings.
"Sophisticated Lady" (1933) in orchestral arrangement by Chuck Israels offered a brief breather.
Harlem, premiered at Carnegie Hall in 1955, remains one of Ellington's greatest masterpieces. Here ASO rose to the challenge and delivered a solid, satisfactory performance with excellent rhythm from double-bass players.  
"Satin Doll" (1953) sung by Grammy Award-winning Catherine Russell (who has six jazz albums to her credit) offered a pleasant three-minute breather in Russell's high, clear voice with rhythmic bounce offered another breather that made one recall one of the many great songs that Ellington was involved with.
Night Creature also premiered at Carnegie Hall in 1955, but not recorded (live) until 1963 by Reprise in Europe, offered an even better, deeper Ellington sound-immersion experience with ASO playing at full capacity and driving unity. This was presented in Gunther Schuller's 1994 critical edition. This delightful comic piece delivers delicious swing which concludes with late night stomping, more than any other piece of that night will live in my memory and I hope in the memory of those attending!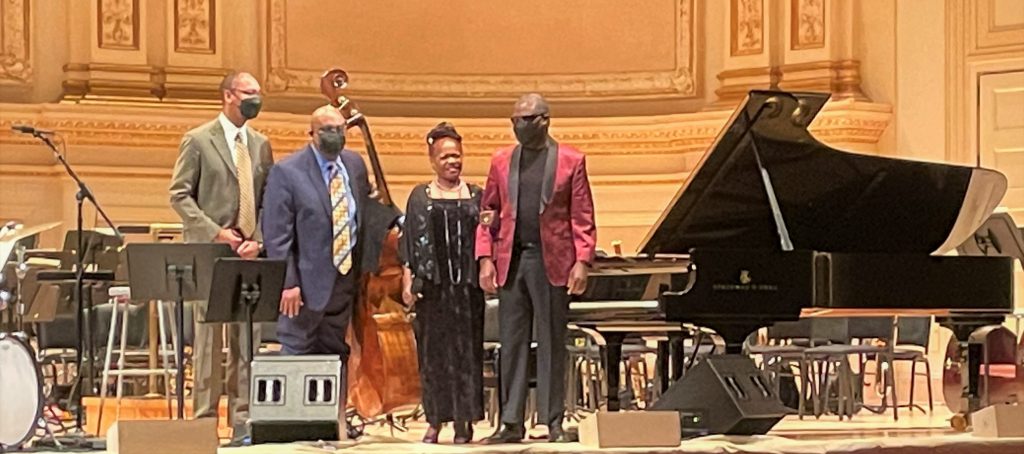 After intermission Ellington's second Carnegie Hall premiere, New-World A-Comin' (1943) with accomplished panache. This piece optimistically paints the future of our country as a happily integrated land of idealistic community. Given that theme I presume the audience listened with a certain degree of pathos.     
The Marcus Roberts Quartet took stage to play four numbers.  
"Mood Indigo" (1930) became a signature nocturne piece that became a popular standard that was played at nearly all Ellington concerts for thirty years. First recorded with a seven-piece combo, with trumpet opening with a three-part chorale. André Previn once famously quipped: "Duke lifts his finger, three horns make a sound, and I don't know what it is." That confusion characterizes so much of Dukes' music and made him the original he was, yet it remained true that much of that originality came from those who played for Duke. Recorded for Okey, that same evening they played it with a six combo at The Cotton Club for broadcast and it was an immediate sensation. Yet on the first pressing it was mislabeled as "Dreamy Blues." The following year Irving Mills added its lyrics, then recorded by singer Gene Austin who claimed he had written the lyrics and gave the royalties to Mills (a rather unlikely story unless they had written it together). Whatever the case, Marcus Roberts delivered a pleasant version with his sparkling pian
"It Don't Mean a Thing (If it Ain't Got that Swing)" (1932), an Ellington standard which was performed at nearly every Ellington concert was sung with exuberant swing by Russell. Ellington once defined swing as "Harlem rhythm."
The concert concluded with Three Black Kings (1974), Ellington's last composition. The concept was to portray the eras of three legendary icons for a ballet: David, Solomon, and Martin Luther King, yet the third part was never completed during Ellington's lifetime. A significant portion of the work was done at Columbia Presbyterian hospital where Ellington worked as long as his lungs permitted him to breathe. This fitting conclusion to the concert provided sentimental heft about the loss of an original, creative talent who was so unique, imaginative, and completely irreplaceable.