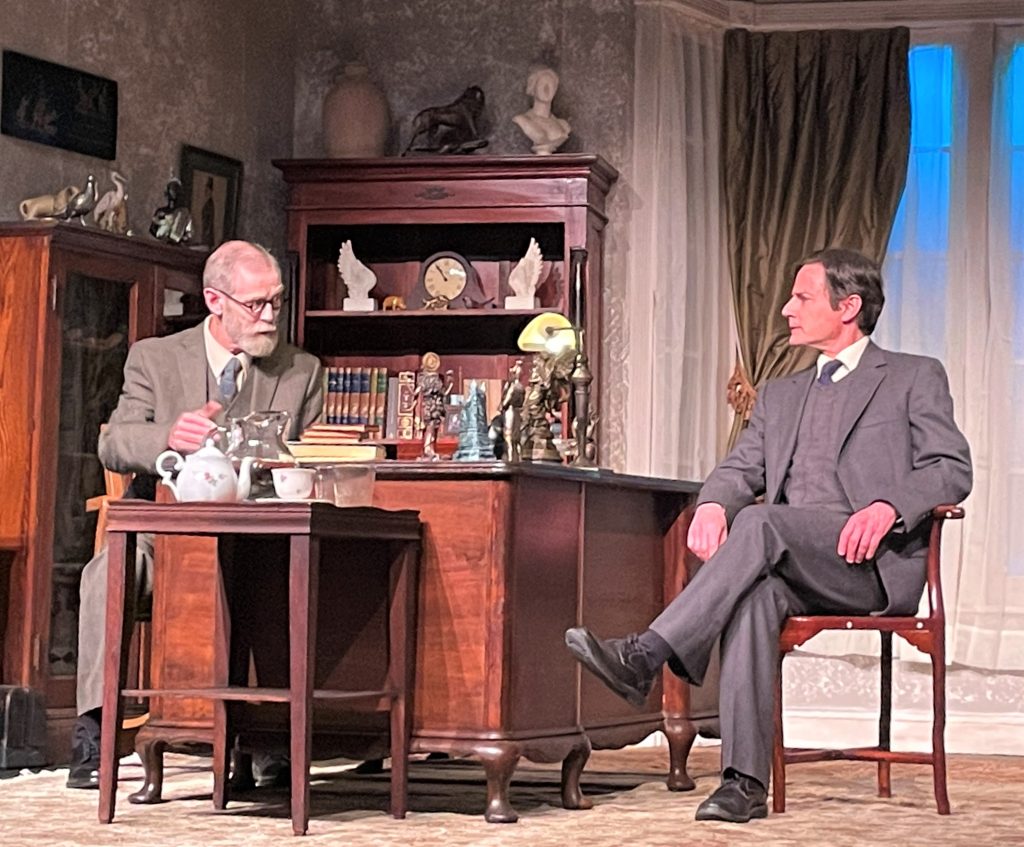 Freud's Last Session at Theatreworks in New Milford offers superb acting in a two-person heavyweight drama: an elderly Sigmund Freud, played with biting wit by Francis A. Daley, duels verbally in a visit from Oxford don C.S. Lewis, played with subversive, buoyant joy by Chris Luongo. A dialectical duel of wits like two children playing on a see-saw while shouting humorous jokes ensues. The debate occurs in Freud's London study (a replica of his Vienna office) on the eve of September 3, 1939. when Germany began bombing civilians in London.
The see-saw of wit in this long one-act masterpiece by Mark St. Germain (first performed by the Barrington Stage Company in Pittsfield, MA) revolves around Atheism vs. Christianity, pessimism vs. optimism, reality vs. fantasy. Freud's Aristotelian logic freights disappointment amid amusing illustrative jokes, while Lewis' defense of fantasy in the service of hope and aspiration exudes youthful healing. While Daley wins the intellectual argument, Luongo wins the emotional argument. Meanwhile the mayhem of bombs raining down on civilians offers proof of humankind's insanity: neither logic nor morals has ever improved the human condition in the long run, ever since Homo sapiens migrated from Africa boasting of autocratic wisdom.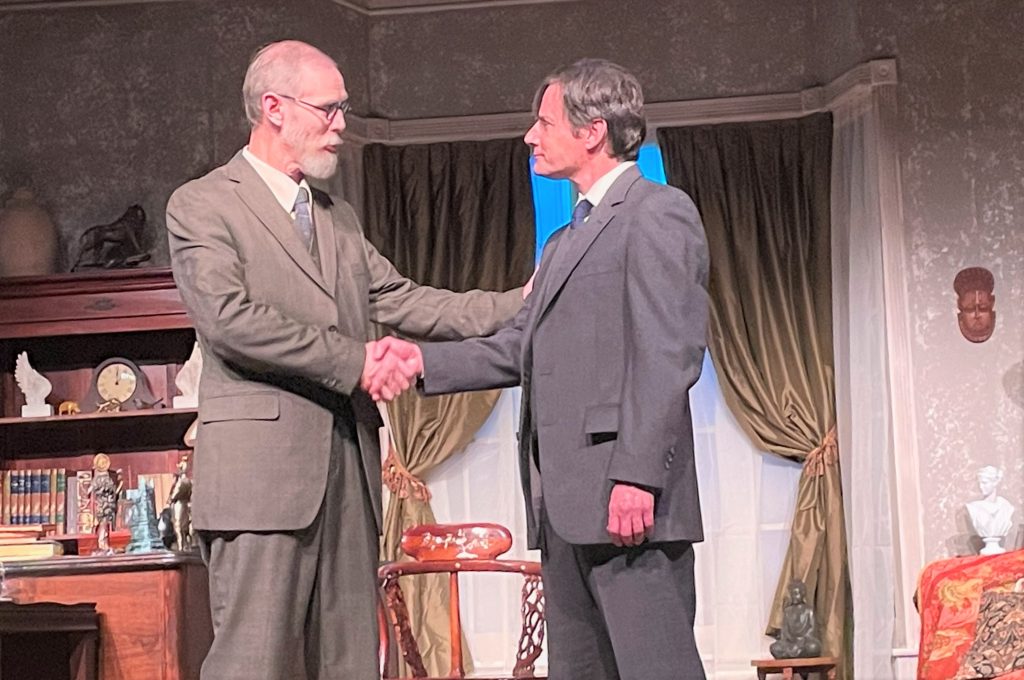 sapiens migrated from Africa boasting of autocratic wisdom.
Freud's illness with cancer and immanent death limits his vision of life, while Lewis' anthropomorphic shield offers aimable generosity. The background of falling bombs announce the irrelevancy of either vision as a fulcrum dissolves amid the reality of irrational war which has no place for either logic or sanity. Each actor fleshes out their identity in the face of their mortality. Francis A. Daley (Freud) as director was magnificent in the pacing of the play and its ironic underpinning. Incisive ripostes echo with good-natured irony.
Deep thinking can be a funny thing and both actors excel in their ironic swings at each other, using rhetoric to turn tables swiftly as if it functioned like a child's spinner in a wistful game. The build-up and slow drive to Greek theatrical reversal has become a modernist roller-coaster ride with comic asides.
Scenic and Lighting design by Leif Smith (you can hear him play guitar on YouTube) delivers symbolism and ambiance that staidly rebuke the chaos of the world with its desk collection of iconic mythical figurines like Athena, etc. Devon Langworthy and Dylan Heydet ably assisted Smith.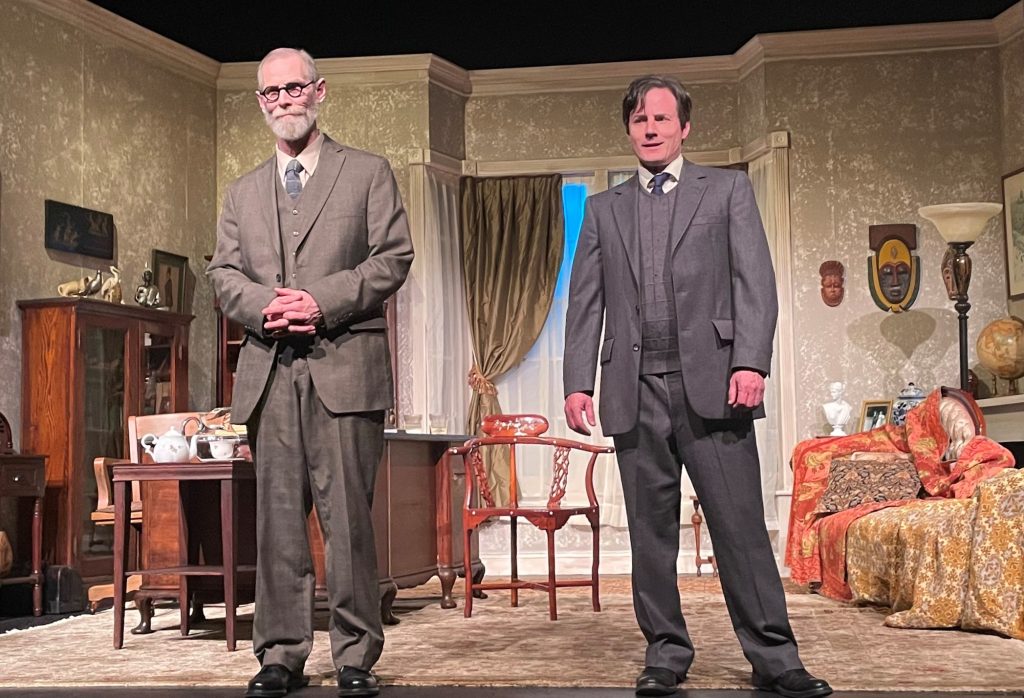 The well-crafted script offers such pithy and profound observations that one may be tempted to attend this little-known play more than once, since it remains so rich in igniting neurons beneath one's skull. You may need more than one Session! Who are we? What are we? Are we people who care for each other, or are we monsters looking for the thrill of finding a victim? This play is a night of paradoxes to remember….
At Theatreworks actors are happy to linger and talk about their work.
Freud's Last Session runs weekends through March 11. For more information go to: https://theatreworks.us/