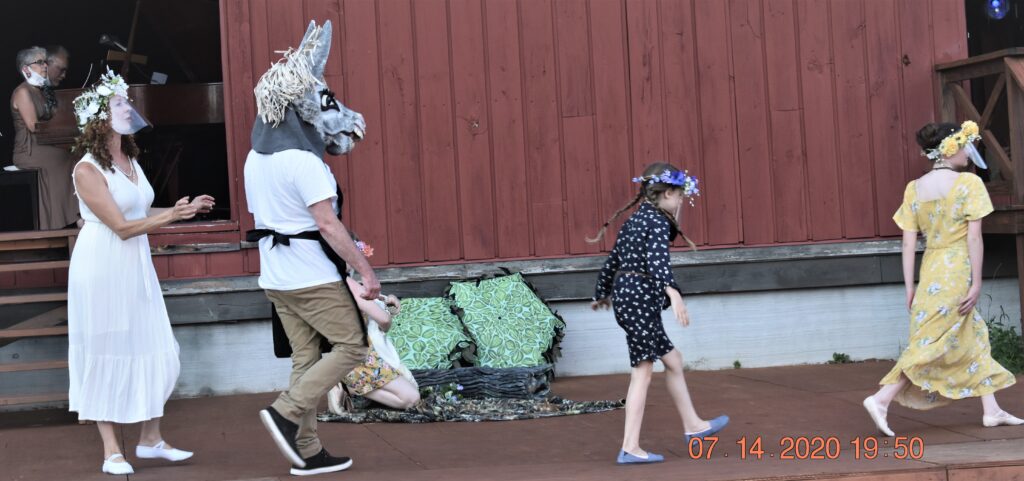 By Kevin T. McEneaney
Real theater now? Yes, outdoors at the center for Performing Arts in Rhinebeck. On the lawn. Bring a chair or blanket.
Shakespeare's silliest and cutest play, A Midsummer Night's Dream, at twilight with inventive twists of clever staging on a newly built porch deck offers a delightful romp for all ages. Yes, you can bring the children and picnic. It is safe, social distancing, no crowding. Despite the burden of four nearly simultaneous running plots, this comedy remains one of Shakespeare's most popular and most performed plays. Since there is but the one platform stage, there is some tailoring, and the play runs without intermission.
In terms of acting, the most difficult parts for the actors are not the sophisticated roles, but the bumpkin peasant players who don't know how to act, and the play director who has no idea of how to direct a play while one even wonders if the director, ably played by Emily de Pew, has ever attended a play. The script in this subplot is so bad that it offers actors the challenge to invent new interpretations of old slapstick jokes while hinting with subtlety that society has perhaps greatly declined since the Greeks as it satirizes the ancient Greek concept of woman's role in society. It is this perspective of simple popular entertainment with oblique sophistication that has made the play so enduring.
Among the yokel actors, Michael Britt as Bottom is outstanding in refurbishing gestures and clichés. Cheyenne See as Snug the Lion cat-growl's one into laughter. Jovan Bradley appears as the most unlikely cast Thisby, but he is full of amazing surprises. Actors hardly jostle to play Snout, who is the Great Wall, yet Elizabeth Crew elicits meek humor from the abject role. And yes, the Wall plays the role of great villain, just as it does today.
As Theseus, Andy Crispell provides the sophisticated gravitas that is neither condescending nor superficial as his witty remarks offer wise realism. Deborah Coconis as Titania delivered svelte poise that made her appear to float across the stage bestowing grace and generosity. Vera Perry as Hermia conveys both naiveté and serious commitment in the quest for love with comic panache. Yes, there are more women than usual in this cast and that is all for the better. As Oberon, Joe Bongiorno was solid, yet perhaps a tad too serious. The sprightly fairy children are so delightful that I wished I had brought my five-year-old grandson to enjoy them.
Costumes by Lobsang Comacho were, as usual, sparkling. Paul and JoAnne Schubert played two-hand and four-hand live piano music before, during, and after the show—featuring Felix Mendelssohn, as well as their own hypnotic music. Above all, was the invisible hand of Director Lou Trapani who evoked an extra quirky ability to extract humor. In the past much of the humor in this comedy resided in men playing women's roles, yet in a modern twist Trapani casts women in men's roles.
This 7 pm evening production is in its second and final week, runing through Saturday evening. Tickets must be purchased in advance at (845) 876-3080 or online. No same day tickets are available. There is no bar, but you can bring your own beverage.