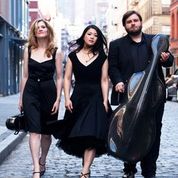 by Kevin T. McEneaney
The decade old Neave Trio, musicians in residence at Bard College Longy School on October 10, offered a marvelous live-stream concert through evenbright.com from Edward M. Pickman Concert Hall, Boston. The trio (with five albums to their credit) features cellist Mikhail Veselov, pianist Eri Nakamura, and Anna Williams on her 1794 Gagliano violin. Neave is an Irish word meaning bright.
They opened with Piano Trio in G-minor (1846) by Clara Schumann. Written in Vienna at the age of 27, a few months after a miscarriage, this trio (written before her husband Robert ever wrote one and provoked him to write some) is usually considered to be her best composition. In her lifetime Clara was considered one of the greatest living pianists. Both Greig and Chopin admired her playing; Chopin declared that she was the only pianist in Germany who could accurately play his work when she was seventeen.
The opening Allegro moderato relies heavily on chromaticism in sonata form. Each instrument enjoys a solo and the final blending of the movement delivers elegant balance between instruments, which the Neave trio deliciously delivered, yet the interplay of diverse instruments raises the question if these instruments will cooperate with each other. The following slow Scherzo permits the instruments to flavor a fuller individual sound and here Veselov's cello ably intertwined with Nakamura on piano. The piano opens the third movement Andante with a solo as Williams' violin gradually challenges the piano for lead, yet all three instruments suddenly discover amiable agreement with dotted rhythms. The concluding Allegretto invites dramatic intensity—here the performance reveled in ecstatic unity— recalling the theme of the opening sonata, as all three instruments blend with such ecstatic rejoicing that you want to rise from your seat and applaud.
While Dmitri Shostakovich's Piano Trio in C minor, composed when he was sixteen (some of it written when he was thirteen), is rarely ever performed anywhere, it remains a revelatory, exciting prelude to his later work with its haunting dissonant rhythms. Here Anna Williams excelled in the subtle difference of modulation that make the work sing with pathos while Nakamura excavated impassioned anger as Veselov's cello delivered an underworld plea for sanity. This work was published sixty years later, two years after Shostakovich passed away.
Piano Trio (2003) by Jennifer Higdon, one of this country's most performed classical composers, appears to have a glancing relation to the pieces above. The first movement, Pale Yellow, employs the kind of harmonies one finds in Clara Schumann's Trio, while the second movement, Fiery Red, dramatically uses the ambient dissonant qualities found in Shostakovich. Also, the rousing conclusion to Fiery Red has similar impetuous revelry to Clara's conclusion where the final notes are so powerful that one is persuades that there is nothing more to "say" with these fiercely played instruments in this thoughtfully conceived program.