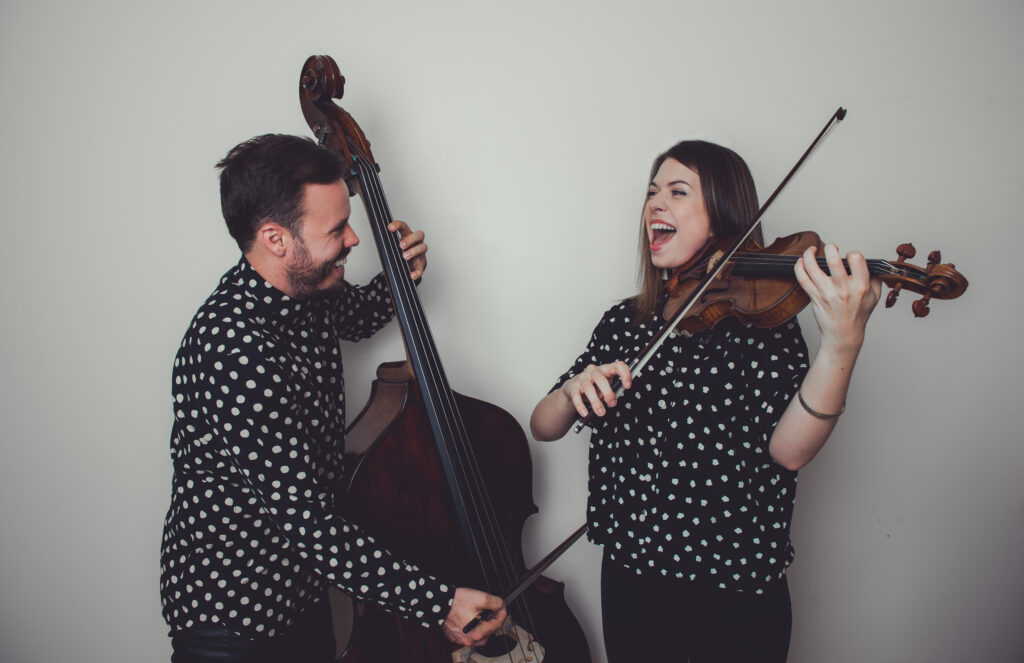 by Kevin T. McEneaney
Clarion Concerts (sometimes called the Leaf Peeper series) presented From Bach to Bluegrass and Beyond with Tessa Lark on violin and Michael Thurber on bass. Lark is an accomplished orchestral violinist who has moved to a duo career with bassist Michael Thurber (who has composed music for the Royal Shakespeare Company). They first met each other on the From the Top radio program. They are both composers as well as performers.
The October 10 broadcast was recorded at The Stissing Center in Pine Plains with video by J. Henry Fair and sound engineering by Ryan McCullough. The acoustics at The Stissing Center provides a superb venue; this latest recording from the Center establishes it as an important Hudson Valley resource for musicians. Today, such video recording offers better recording range, especially in higher decibel range, than traditional cd format.
They began with their own arrangements of a few J.S. Bach's two-part inventions, which were written as organ exercises (fifteen) for his students to learn counterpoint and achieve a songlike style that would lead to composing for voice. Their arrangement permitted a dialogue between instruments with the violin rising in ascending mode while the bass cello playing counterpoint, appearing to remind the violin of the limits to lyrical, cloud ascension. This novel approach to re-arranging Bach into contemporary language once more reaffirms the liquid etymology and fecundity of Bach's surname (Spring).
Moving to Bluegrass they played "Cedar and Sage," a plangent yet exciting work that conjures the rolling hills of Kentucky as violin and bass (sometimes sounding like cello) dialogue with rural folk tunes in a more sophisticated interplay that one encounters with traditional folk performers. There was some counterpoint in the delightful arrangement, which offered a deeper emotional dimension to the work.
"Weathervane" was inspired by Michael visiting Tessa's home in Kentucky and becoming intrigued by the weathervane on her house roof. As one might expect, this piece wanders in more emotional lines, as it offers a probing meditation on local roots, family, and landscape.
Tessa Lark then played "Ashoka," a tune inspired by a melody she noticed in the work of Maurice Ravel, and transforming, or more like translating, the melody into Appalachian style, Tessa invented a violin showpiece of her own devising that segued into "Emily's Reel" by the noted fiddler Mark O'Connor with whom Tessa has played.
"Tom and Nancy," a composition titled after two friends of theirs, offered a male-female dialogue between bass and violin that concluded with contagious affection. This unique piece rode the current of pleasant memories in a unique and personal manner in a style rooted in conversation.
"Until We Meet Again," another original, in the farewell Kentucky mold was presented as contextualized by the current pandemic wherein audiences are distant digits that musicians no longer see, except as viewer counters when they play in isolation. The elegiac lament was a fitting conclusion contrast to the ebullient zip rising from idyllic Kentucky creeks.
The video play of this concert can be heard here at   https://www.clarionconcerts.org/artist.php?view=events