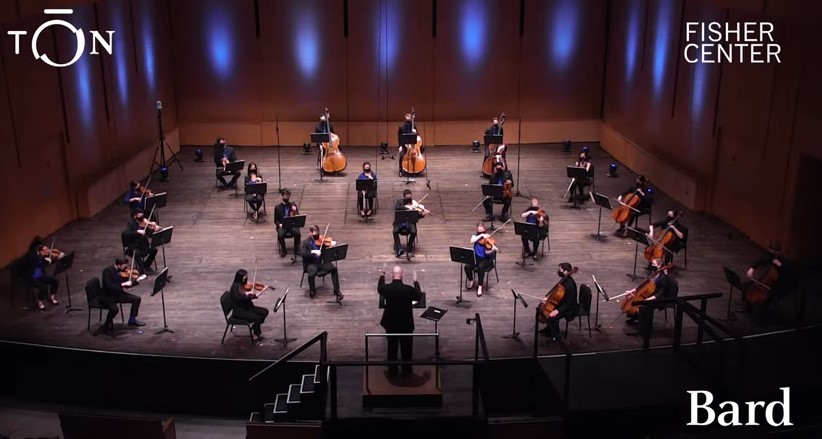 by Kevin T. McEneaney
On Sunday afternoon at Bard College The Orchestra Now under the baton of Leon Botstein played an interesting live-stream program of music mostly not often played. They opened with a sure favorite, George Frederick Handel's Water Music (1717) for King George I (1714-1727), who disdained to speak a single word of English during his reign. The music was for a festive barge feast on the Thames. The King enjoyed it so much he had it repeated twice more. The music remains enjoyable if you have heard it thrice times thirty. (You can even indulge in a short conversation with a friend during the performance.)
While there were merely twenty-three performers (Handel had fifty and what was played may not exactly be what was published in 1733), TŌN sounded like fifty players with resonant unity and the exuberant joy which the work demands, echoing long after in one's ear. While it remans more difficult in virtual format to identify players to commend, I could not help but notice and congratulate Mathew Griffith on clarinet, Shawn Hutchinson on oboe, and Emily Buehler on French horn.
After that delight they played the Chamber Symphony No.1 by Arnold Schoenberg (1907). Not often played, the work offers an introspective plunge. The work is considered the endpoint of traditional chromatic tonality. Filled with attractive timbre from unusual instrumental combinations, it teases the listener with delayed harmonic resolution, yet when it finally arrives in the finale, one's emotions surge with grateful appreciation. Victor Tόth from Hungary (who introduced the work with pyrotechnic density) excelled with the large bass clarinet. This intensely intricate intellectual journey inward offered vibrant contrast to the sunny extroversion of Handel.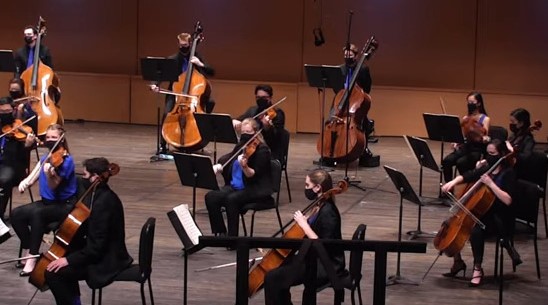 Cuauhnáhuac (1932) by the Mexican composer Silvestre Revueltas (1899-1940). The title is a native word meaning near the forest." Percussive polyrhythms dance to dissonant, chromatic idioms and irregular progressions to achieve a neo-Romantic evocation of a landscape before European Colonialization. Revueltas was perceived as a New World counterpart (during his short life) to Igor Stravinsky. While evoking an atmosphere of native forest culture the presence of Classical Counterpoint offers unusual and often exciting incongruity that presents an intellectual forest-like plunge which transforms the native material into a labyrinth of intellectual riddle foreign to traditional Classicism with its roots in court music. This Otherworldly work freights an upfront emotional surface that often belies the work's complexity, as if one is traveling through a forest uncovering new vistas as one parts leaves before one's eye. The strings in their unity delivered a unified mystery amplified by the flute of Leanna Ginsberg. This work was introduced by bass player Kaden Henderson.
Metamorphosen (1945) by Richard Strauss, composed in Switzerland as U.S. troops overran Germany, is perhaps the most overtly emotional work that Strauss ever composed. An elegiac lament on the death of German culture, it offers a broad accessibility in its sentiment (much like his famous Alpine Symphony).
Given the difficulties of musicians during the Covid-19 pandemic, this selection dramatized the current plight of musicians who have become marginalized. Will they recover an audience? Will the music scene ever be the same with the loss of funding and paid performances? One hears this plangent, tragic cry from the heart in a new way at this moment.
This all-string transcendent performance certainly went under my skin. Amid the searching pathos, the cellos of Cameron Collins, Lucas Button, and Sarah Schoeffler stood out.
If you missed the live transmission, one can listen free to the performance via YouTube at https://www.youtube.com/watch?v=zrtKX0aWraw