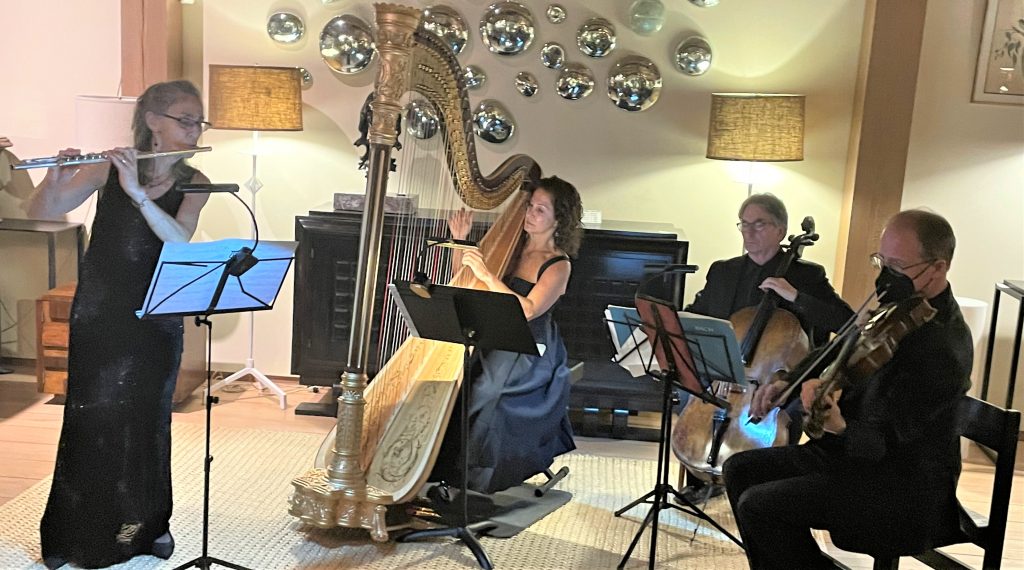 by Kevin T McEneaney
At the renowned antique emporium R.T. Facts in Kent, CT, the Sherman Chamber Ensemble entertained with a clever and charming program entitled Suites & Sweets, a mix of traditional suites and sweet pieces by assorted composers. Eliot Bailen opened with J.S. Bach's Suite for solo cello, BMW 1009, one of the five solo cello suites by Bach. This was an ambitious opening as great cello recordings of these suites are available by Pablo Casals, Mstisalv Rostropovich, and Mischa Maisky, the latter giving a lighter, more upbeat interpretation.
Eliot played the Prelude, fourth movement Sarabande, and the concluding Gigue of the sixth movement; I thought the opening Prelude excellent, yet some lower notes of the Sarabande were held a fraction too long, and perhaps the concluding Gigue might have been played a smidgen faster to impart more exuberance; tonal and rhythmic playing was very good, these pieces being extremely demanding of a soloist. The virtue of Bailen's performance resided in spontaneous geniality and optimistic hospitality, gregarious traits that announce his signature (or fingerprint) whenever he performs—this was especially welcome in the intimate ambiance of a salon.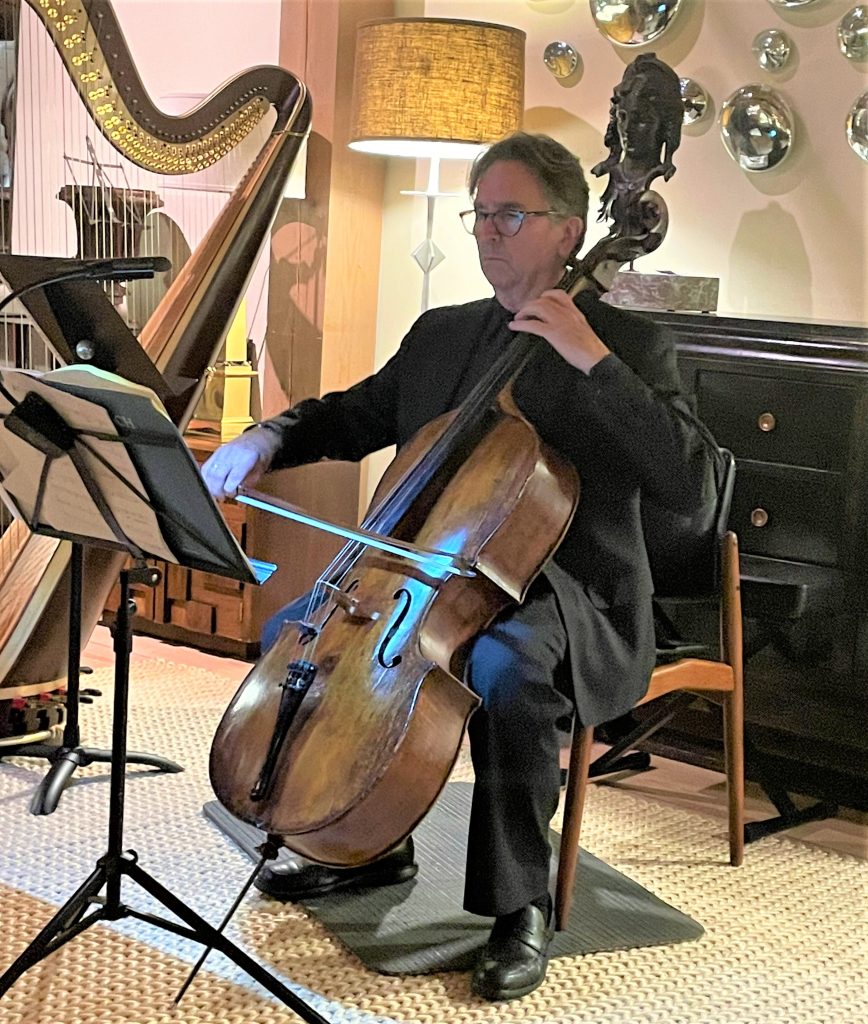 The program proceeded historically, except for the conclusion. Stacy Shames on harp played Maurice Ravel's "Mother Goose Suite" (first composed on piano), accompanied by Susan Rotholz on flute. Melodic interweaving between flute and harp delivered a satisfying, gorgeous, Belle Epoch aesthetic. This duo arrangement was loaned by a member of the New York Philharmonic: "Pavane of the Beautiful Dormant Branches," "The Ugly Empress of the Pagodas," and "The Fairy Garden," the latter being a little saccharine to my taste. My favorite was the pathos depicted in the Orientalist esthetic of the pagoda landscape where notes rose high and fell, depicting architectural beauty amid personal isolation and desolation.
An excerpt from Eugène Goossens Suite for Flute, Violin and Harp, No. 6 allowed Michael Roth on violin to join for a trio. Goossens was a fairly prolific composer and noted conductor who conducted the first performance of Stravinsky's Rite of Spring in England (1921). Goossens moved to Australia in 1947. He was knighted in 1955, yet two years later he had an affair with an English woman involved in the occult; returning from England, he was arrested by Australian police, convicted of transporting pornographic photos, and spent some years in prison, which effectively ended his composition career. This short piece was economically terse and quite modern in its minimalist inflections. Novels and even an opera has been written about his tragic life. (Goossens wrote two operas, Judith (1929) and Don Juan de Mañara (1937).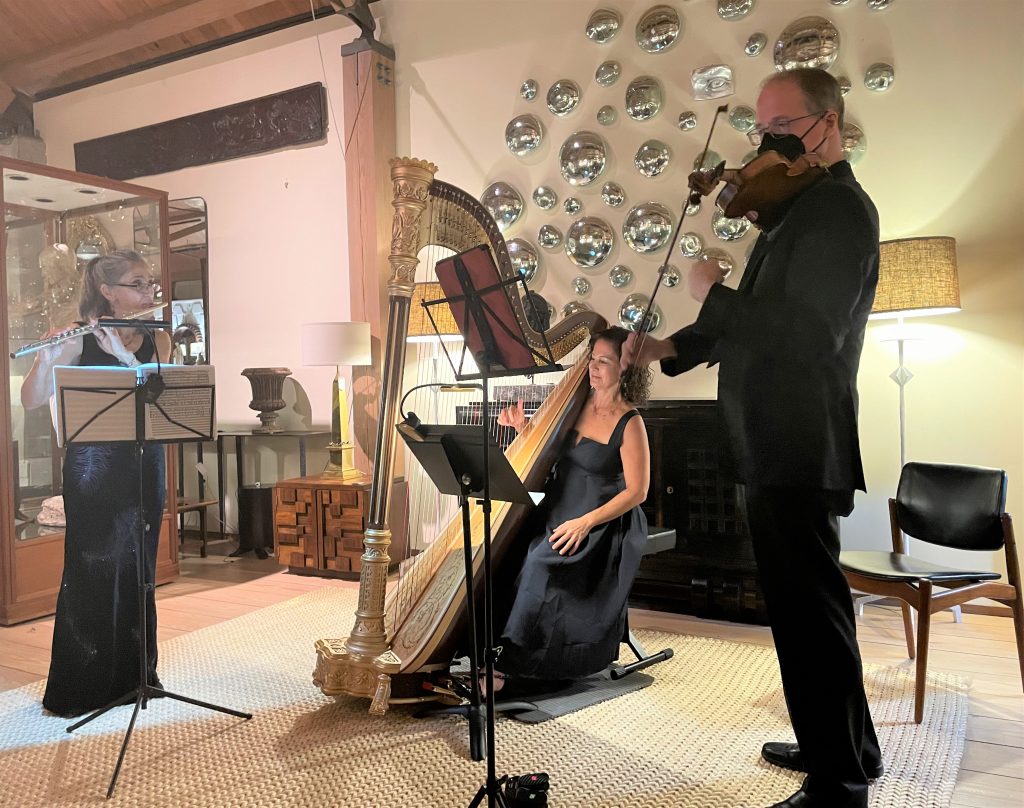 An excerpt from Herman Beeftink's Celtic Suite No. 1 for flute violin and alto flute was played with Bailen's cello substituting for alto flute. Beeftink was the piano player and composer for the 275 episodes of the television series Cheers. He has composed about a dozen movie scores and other tv series work like X-men and Wolverines. This selection came about because in one of Susan Rotholz's college classes a student said that Beeftink was her favorite composer. This short piece was moody, romantic landscape: sweet.
Stacey Shames played an excerpt from Suite of Eight Dances for solo harp by Carlos Salzedo (1885-1971), a noted, eccentric harp teacher of women; "Bolero," "Seguidilla," "Tango," and "Rumba." My favorites of Stacey's swift fingerings (with remarkable resonance) were the first and last movements.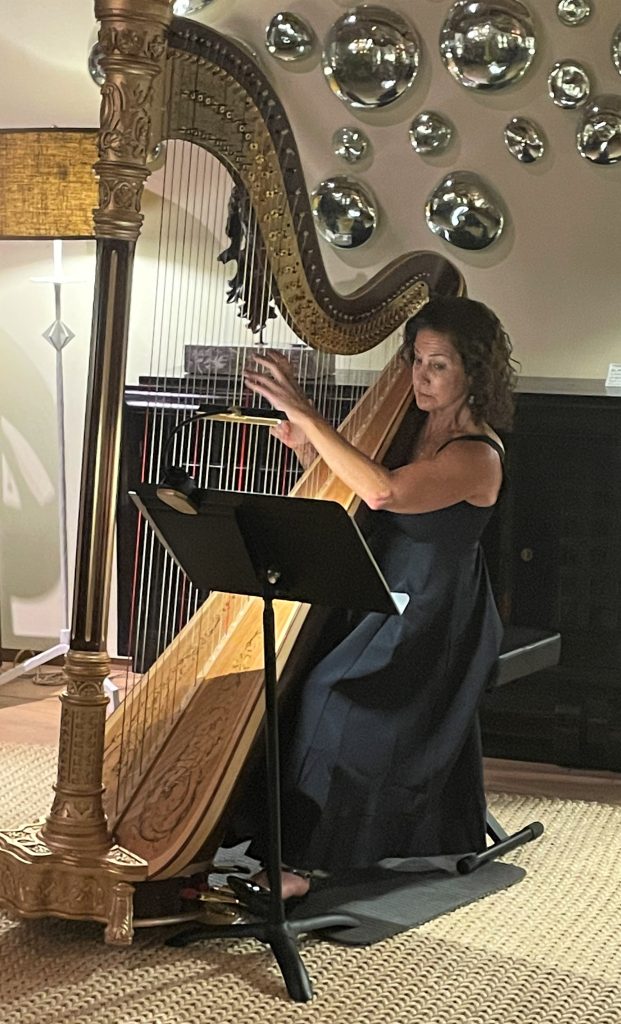 To counter the two previous sweets, the concert concluded with Claude Debussy's "Clair de Lune" from the Suite Bergamasque. While this remains a sweet popular piano favorite, the arrangement here was for flute, viola, cello, and harp. This novel arrangement lifted this piece from the ambiance of cliché into the salon of art where a small crowd then sampled the sweet cakes, cookies, and chocolate candies laid out on a few tables.
The eclectic dialectic between known and obscure works offered that novelty one expects from an accomplished salon gathering—and so conversation proceeded from the sweetly frivolous to the historically profound at this delightful gathering of cultural sampling that could have occurred nowhere else on this dizzy planet.