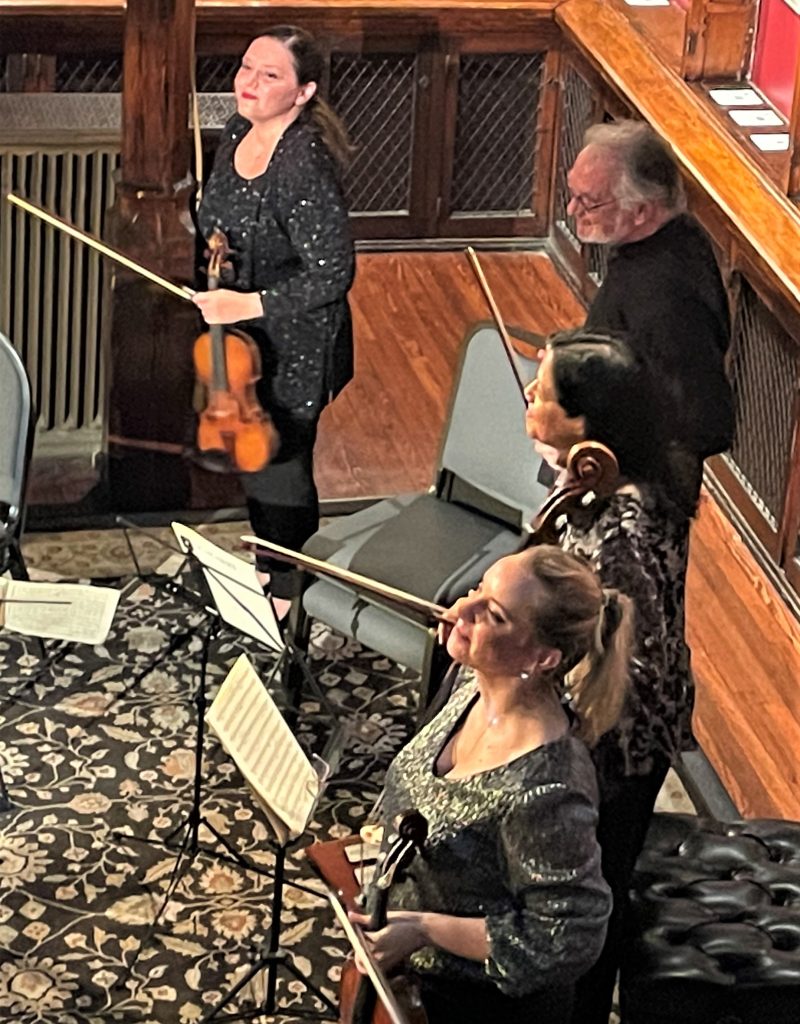 by Kevin T McEneaney
The Juilliard Quartet at the Howland Chamber Music Circle in Beacon, NY, in a program titled Extra Inspirations opened with String Quartet No. 16 in F Major, Op. 135 (1826) by Ludwig van Beethoven. Among Beethoven's late quartets, this is the shortest one, running at about 23 minutes. This was the last major work that he completed before his death. His nephew Karl, who had been living with his uncle at the time, had attempted suicide by shooting himself in the head with a pistol, yet did not die. Upon release from the hospital, he went back to his mother, blaming his uncle for his strictness about his nocturnal drinking at pubs and not returning home many times, yet he also intensely feared flunking his final exams in his first semester in college. Ludwig proposed that he and Karl take a vacation along the Danube, the rural beauty reminding Beethoven of his youthful ramblings along the Rhine in his youth. Beethoven sketched and completed this quartet which appears to consist of autobiographical musings.
The intense chromaticism and spare contrapuntal writing of the work appears to present a mediation on his recent problems with his nephew Karl who after the suicide attempt (and the damage to is brain) was now only fit for a military career instead of higher achievements. The opening Allegretto records Beethoven's childhood memories of wandering in woods and meadows along the Rhine. The Vivace may record the excitement of his earlier musical development as a developing musician. The tranquil Lento notes his satisfaction of remarkable achievements. The fourth movement his resignation at what must be: his disappointment in Karl and his own approaching death since he was not in good health and suffered from occasional painful piercing sounds despite his deafness. This arc carries much emotional sentiment brought out by the high notes played on the bridge of Areta Zhuila's first violin while the resonant cello of Astrid Schween grounded the air with resigned, lyrical pathos as the viola of Molly Carr delivered the joys of memory and the second violin of Ronald Carr provided shaded nuance to what must be in the arc of one's lived life.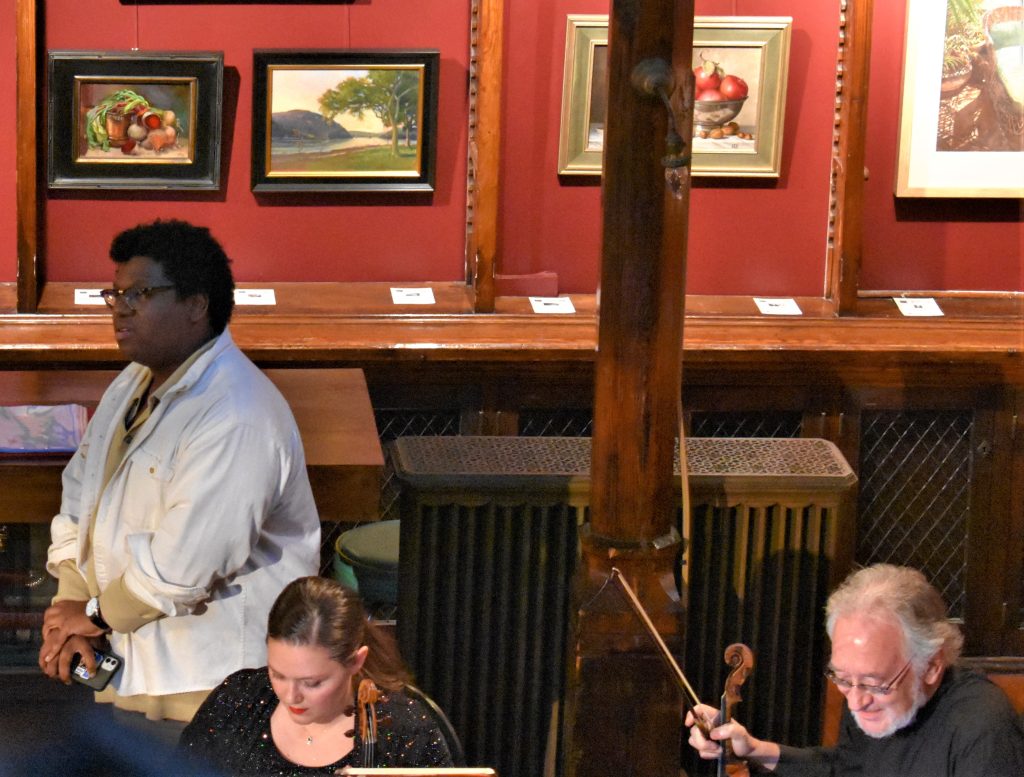 String Quartet No. 2 (2022) by Tyson Davis (b. 2000) followed. This work was co-commissioned by the Howland Music Chamber Circle. Tyson was there and made the brief remark that his work also featured chromaticism as in the Beethoven piece just played, and so we were by implication asked to notice some parallels between the structure of his work and the Beethoven quartet just played. The length of his quartet was about the length of the Beethoven quartet, and it appeared to be an autobiographical work that recalled his childhood fascination a rainbow of possible sounds within an experimental framework. High notes played on the bridges of violin and viola dominated with cello grounding. Strings played short fragments attempting to converse with difficulty in contrapuntal replies, eventually resorting to brief pizzicato played once more on the bridge. For the players, this piece was highly demanding, difficult with intense emotional pitches, and either rapid replies, or admission of confusion. The diction sounded as if was taking place on another planet, perhaps Saturn, in our solar system, yet it was a meditative description of how the composer became a composer.
At the age of eighteen when he was in high school, Davis won the competition for the commission of a work to celebrate the 30th anniversary of the fall of the Berlin wall. Afterwards, he attended Juilliard and graduated. The style of his work may have some relationship with what may be achieved by experimenting with the musical game Geometry Dash. While Tyson's work remains quite distinctive and original, one might in a general sense compare it to the work of Karim Al-Zand (b.1970) who teaches music composition at Rice University—for example his Strange Machines (String Quartet #4), also composed in 2022, which has been championed successfully by the Balourdet Quartet based at Rice University. Both works offer a surprising new language and new minimalist vocabulary for writing music that demands great technical perfection among performers, Tyson's being more demanding.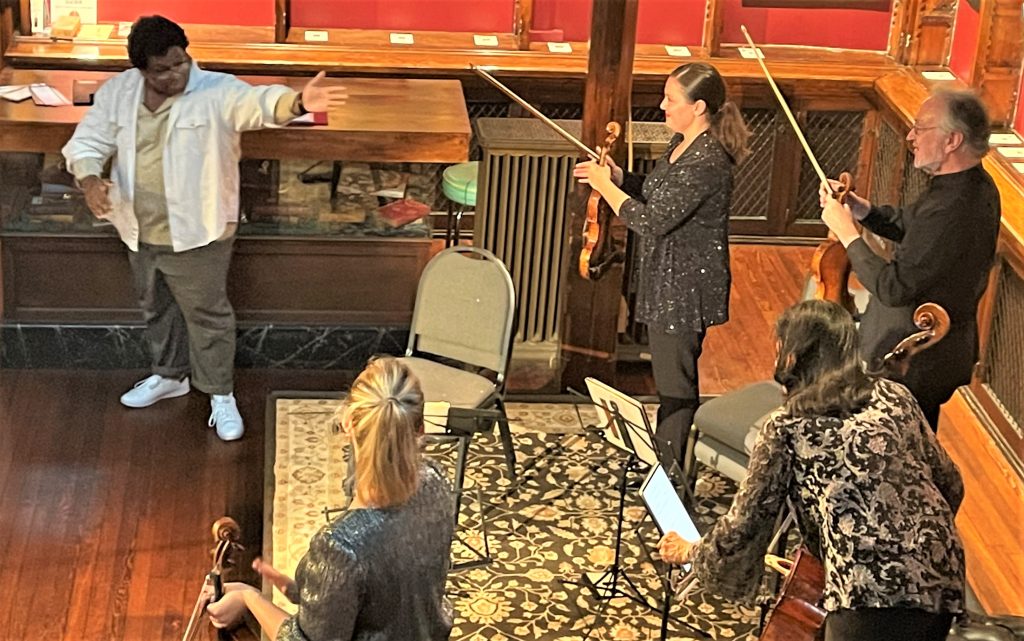 After a break, the Juilliard Quartet performed String Quartet No. 15 in G Major, D. 887 (1826) by Franz Schubert, his last quartet before his death. The first movement opens with descending chromatic motifs through both G major and minor. Schubert's late use of G has been described as a "stealth revolution" (The New Yorker, September 11, 2023) in music that Franz Liszt and Claude Debussy later appropriated for their own wizardry. The first movement employs much tremolo. Instead of the usual process of then decomposing into fragments, Schubert moves in the contrary mode of expanding, which produces the greater lyricism for which he is known and here Zhulla shone. The mellow Andante featured Schween's cello scraping a static harmony that devolves into pizzicato, which in retrospect eerily sounded like it was referring to Tyson's composition, yet was obviously not, but the audience was permitted the program's interlocking, ambient parallel. The light Scherzo featured much exploratory interplay between violon and Carr's eloquent viola while the cello stuck to the theme of the preceding movement, as if to question whether they had strayed. The concluding Allegro addresses ambiguity: is this composition a rondo or sonata; is it in G Major or G Minor? At conclusion, it sounds like it has morphed into an entrancing, hypnotic tarantella.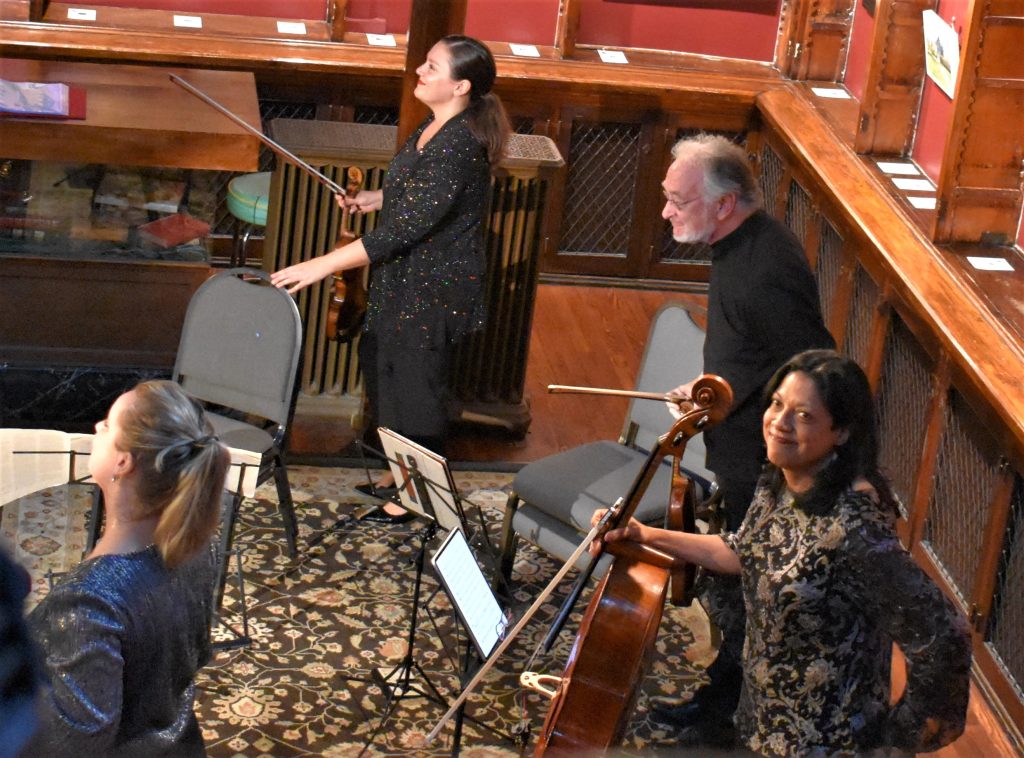 All three quartets explored contagious ambiguities in life with chromaticism, combining the late works of two masters and the early work of a new master. The program offered something like a jigsaw puzzle that we could reformulate and reconfigure with refracting echoes in our mind for a day or two, that is, if we listened closely—that is what was extra about this concert!