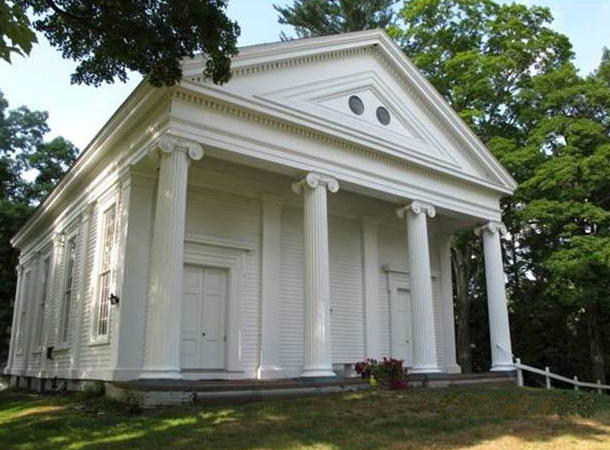 by Denise Jordan Finley
After the 10 AM Sunday service on November 7 at the historic Smithfield Church in a rural valley of Amenia, NY, I was delighted to take in a unique event featuring Kevin McEneaney, locally known as the Smithfield Poet Laureate, and Oscar Rodriguez, classical pianist. The live audience sat in close range of the 1856 Steinway grand piano and the pulpit where readers were situated. An additional audience was in remote attendance by Zoom.
The format of the performance alternated between read poetry and piano improvisation. This sequence was repeated a few times, giving some breathing space between elements. At one point, Douglas Grandgeorge, pastor of the church, ascended the pulpit to read. His measured baritone voice added another element to the sum. The pace was rapid and entertaining.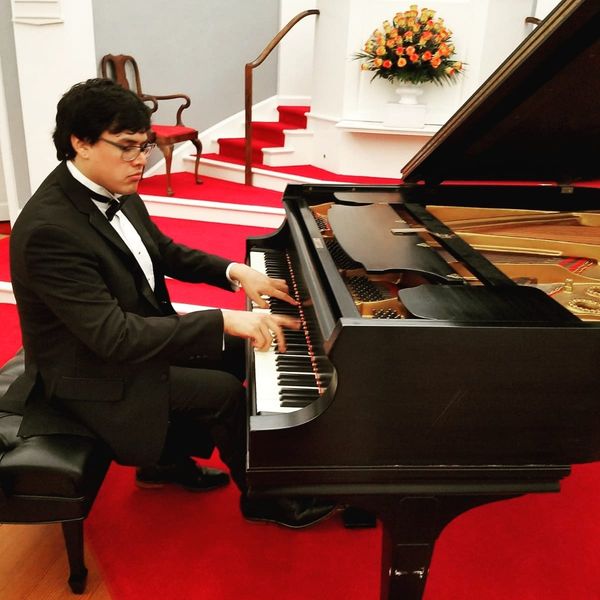 Mr. Rodriguez's playing was articulate, displaying force and thoughtfulness as he revisited poetic verse musically. His is stream-of-conscious keyboard wanderings were played without a visible score. Between sets I noticed that he reached for some sheets which were resting on top of the piano. I suspect he may have been briefing himself with the words he would echo melodically. For the online audience, the subtleties of the piano performance took on a garbled sound that the Zoom media lends to rapid, cascading notes. Visually, Oscar's somewhat wild hair, colorful crocheted scarf, and dramatic movements bestowed enhanced dramatic atmosphere to his performance.
These poems were among the most recent works of the Poet Laureate. He began with one he composed for his six-year-old son, Cameron, "The Shape of the World." This was followed by "At the Creek" and "Apple Picking." They elicited the smoky-sweet ambience of autumn. From there we shifted focus to wide-ranging rumblings and surging rhythms from Mr. Rodriguez, which were followed by Pastor Grandgeorge's reading of a poem referencing the poetry of Elon Wendell Peterson, a dear friend of the pastor, who died early in a tragic accident. He proceeded to read Kevin's "When Keys Are Silent," a poem dedicated to the memory of Hampson Sisler, an organist and composer who played from the loft of Smithfield Church for many years, beloved by the congregation and community alike.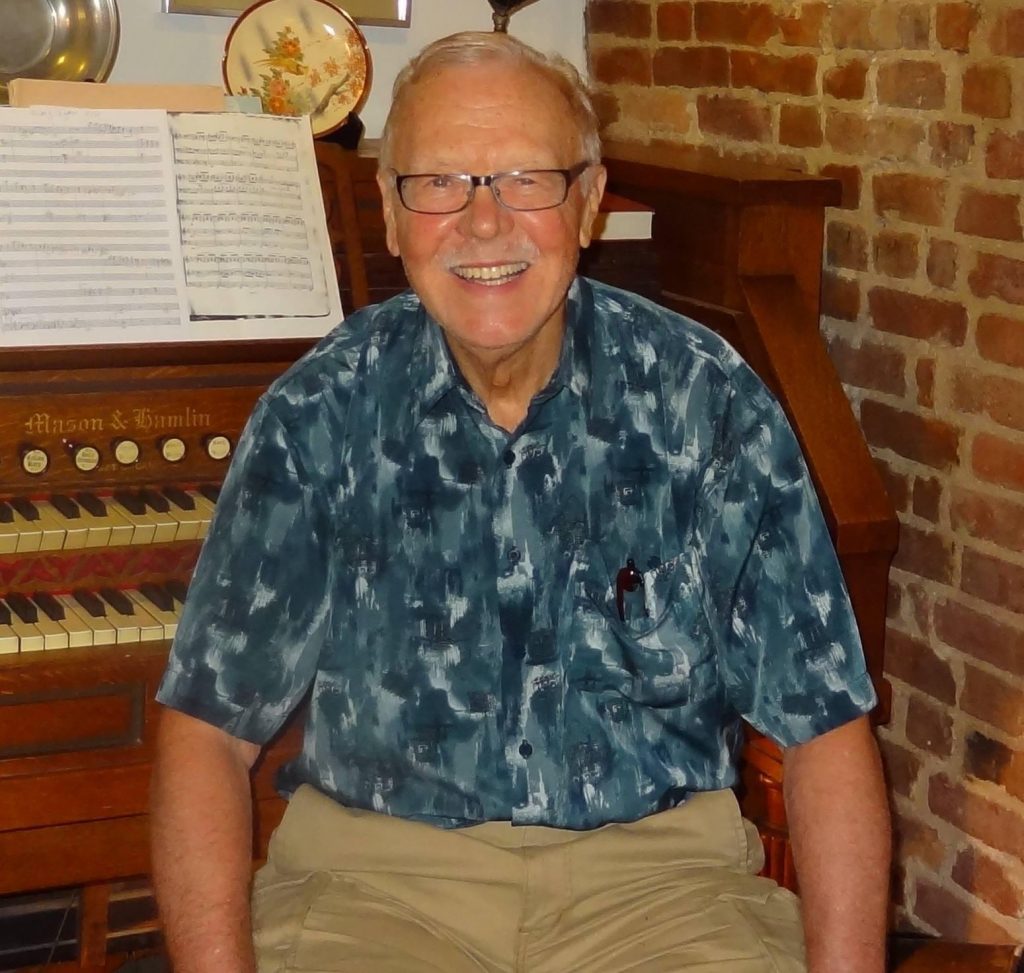 The performance continued with more poet-to-piano alternation: fluid arpeggios, and words seasoned with cynicism, wit, and poignancy. "Memorial," the briefest poem of the program, was a eulogy in a single sigh.
In "Spontaneous Ode to a Hand Truck," the personification of a trusted useful device, the poet exalts the utilitarian object over brother or lover. "Dawn Pearls" exquisitely expresses the profundity of silence after a heavy rain. Among my favorites danced "Household Rules," a house's hilarious ten commandments for its family. Other poems were: "A New Day," which echoes my own sunrise prayer, and "Leg World" with the concluding line, "Compared to many species of insects, we are more clever, yet pedestrian."
At farewell, two poems gave tribute to piano: "Fingers Like Seeds Blowing," and "Blue Notes." Oscar paralleled Kevin's motif which followed the musical progression of the poem's metaphoric sequence, wandering from C major to B minor, then to A major, and concluding in C major where it all began.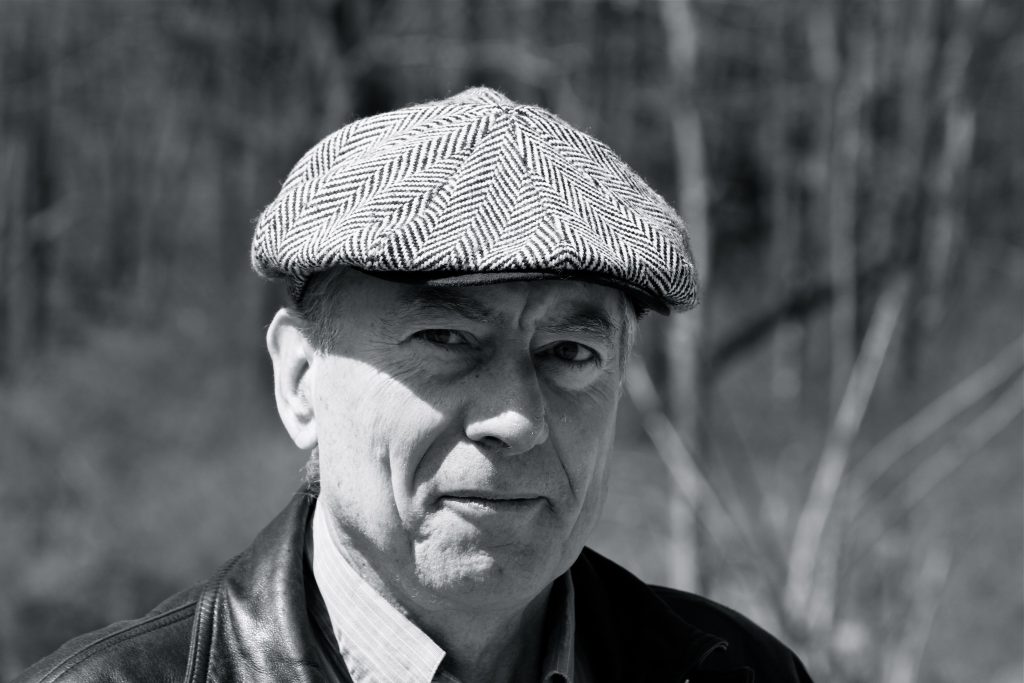 When Kevin reads one wonders why he chooses to pause or why he chooses to emphasize a particular word, yet a careful listener will hear the sophistication of near rhyme and subtle use of alliteration. The close observer might catch the slightest tip of head or gleam of eye that gives fleeting exposure to whimsy, which might pervade even the most serious subject matter.
Speaking to the author, you are struck by his encyclopedic mind. He takes delight in regaling you with detailed obscurities. His extensive research is the clay from which he molds his modest poems, short in length and succinct of line. His poems dramatize his awareness of the fragility of the human heart and his appreciation of the smallest masterpieces of nature.